Barlow ready to lead VSU Trojans
Fred Jeter | 5/13/2016, 7:55 a.m.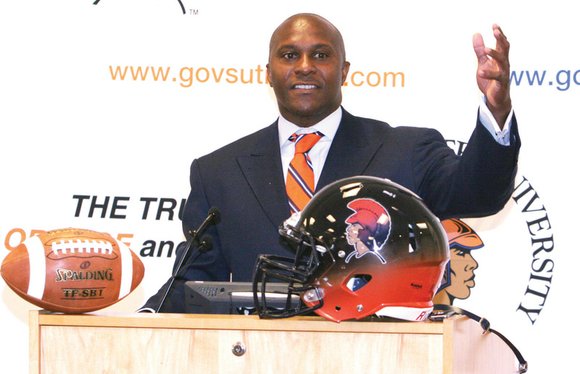 You don't have to examine his résumé to be convinced of Reggie Barlow's success in football.
Just look at his hand.
With a Super Bowl ring glistening on one finger, Barlow was introduced, May 5 as Virginia State University's third football coach in three years, and the fourth in five seasons.
Coach Barlow inherits a Trojans squad that was 6-4 a year ago under Coach Byron Thweatt, and just two autumns removed from being the CIAA champion and NCAA Division II qualifier.
"I've had a chance to look at the stats and watch the video — I'm impressed," Coach Barlow said at the introductory news conference at VSU's Gateway Dining & Event Center on the Ettrick campus.
Among those in attendance was rising senior Tarian Ayres, who is in line to be VSU's starting quarterback for the third straight year.
Ayres, who is from Buckingham County, will be working with his third head coach — and third playbook.
"There's always a little transition with coaches, but we've got some older players who will adjust," said Ayres, looking the part of the leader in white shirt and coat and tie.
"I'm planning on staying here all summer and so are a lot of others. We all look to have an explosive offense."
Ayres was happy hearing that Coach Barlow, while coaching at Alabama State University from 2005 to 2014, groomed quarterback Tarvaris Jackson, who played in the NFL from 2006 to 2015.
Other former ASU Hornets that Coach Barlow helped guide into the NFL were Isaiah Crowell (Cleveland), Terren Jones (Washington), Greg Jenkins (Oakland) and Nigel Carr (Baltimore).
Coach Barlow arrives at a bit of an awkward time — immediately following spring drills conducted by interim Coach Justin Harper.
Looking ahead to official practices in August, Coach Barlow said, "It's easier for one person to adjust than for an entire team," he said of his coaching style.
As one might suspect of a former NFL wide receiver, Coach Barlow prefers a high-octane passing attack. Among his former NFL teammates while he played with the Oakland Raiders was NFL Hall of Fame receiver Jerry Rice.
In Coach Barlow's final season coaching at ASU, the Hornets averaged 30 points and 442 yards per game. His 2014 quarterback, Daniel Duhart, threw for 2,105 yards and 10 touchdowns, hitting 54 percent of passes.
Last year, under Coach Brian Jenkins, ASU's numbers dipped to 25.5 points and 373 yards an outing.
At VSU, Coach Barlow will retain the bulk of the staff that served under Coach Thweatt. That includes Coach Harper, Almondo Curry, Alex Stadler, Mark Carney and Vatel Dixon.

Some came with Coach Thweatt in 2015, and have two-year contracts extending through the 2016 season. Coach Barlow applauded the returning coaches for "grinding" and "sticking to the process" during the transition.
When asked, Coach Barlow did not rule out the possibility of some of his former Alabama State University athletes transferring to VSU. They would have immediate eligibility, moving from a NCAA FCS school to a Division II school.