Personality: Laurinda Finn-Davis, RN
Spotlight on Va. Health Dept.'s Central Region Nurse of the Year
5/13/2016, 6:53 a.m.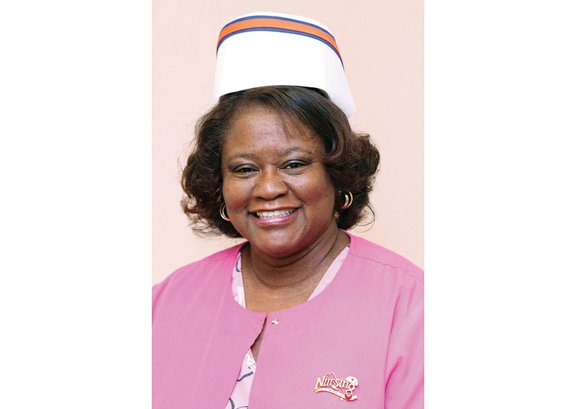 Laurinda Finn-Davis, RN, represents the epitome of giving. The reproductive health nursing supervisor with the Richmond City Health District regularly goes above and beyond the requirements of service and care to ensure that people are valued. "You might not remember my name, but you will remember how I treated you," she says. And remember, they do.
Ms. Finn-Davis' ability to touch people's lives and her service to patients, staff and community was recently recognized when she was honored as the Virginia Department of Health's Central Region Nurse of the Year. She was honored during a ceremony last Thursday in Arlington. The event kicked off National Nurses Week, May 6 through 12.
According to the Healthcare Workforce Data Center of the Virginia Department of Health Professions, there are more than 76,000 registered nurses (RNs) in the Virginia workforce. Yet annually, only three nurses in the state are honored as Nurse of the Year.
Along with Ms. Finn-Davis, a nurse from the state's Northern and Eastern regions were honored.
In her 36 years of nursing, Ms. Finn-Davis has achieved distinction as someone who is passionate about reproductive health. She supervises and guides the health department clinical team that includes other nurses, nursing students, interns, lab workers and social workers.
She brings smiles to the faces of other nurses who work long hours caring for others, as well as to patients who are pregnant, struggling with illness or experiencing grief due to a loss. She recalls that when she first starting treating patients, one of the things she noticed was that she had to treat the whole person.
"So, my goal was to treat them medically but to also reach them on an interpersonal level," she said. "I needed to know that they had eaten and a place to stay, because if those were pressing issues for them, they wouldn't listen to me," she says. Often, Ms. Finn-Davis is a bright spirit at work because of the colorful hats, shirts and Christmas adornments she wears to cheer up patients during the holidays. She has become known as "Miss Christmas" and "Santa's Helper" for her outfits. Regardless of season or reason, Ms. Finn-Davis is always about giving and connecting with people in a way that says, "You are special."
Paging this week's Personality, Nurse Laurinda Finn-Davis:
What I do: Supervise clinical staff; provide hands-on nursing care to maternity, family planning and triage patients; and serve as a group facilitator for Centering Pregnancy, Grief and Loss expertise, staff orientation, the Mayor's Breastfeeding Commission and as a resource for incarcerated pregnant women.
Date and place of birth: July 8, Fort Lee, Va.
Current residence: Chesterfield County.
Alma mater: Bachelor of science in nursing, University of Virginia.
Family: Husband, Ronald Davis; daughter, Bianca Davis; and stepson, Sivad Davis.
What this award means to me: Everything!! It is so special since it comes from my team whom I work directly with. My entire 36 years of nursing has been within women's/children health and this represents years of hard work and passion for the patients I see. Nursing covers so many areas and we are at the top of the list for being trustworthy by the public. To be recognized shows how much others appreciate what you do, but it is not my reason to continue. It just helps to validate that you are appreciated, and we all need that.