Manchester Courthouse renamed to honor Henry and Harold Marsh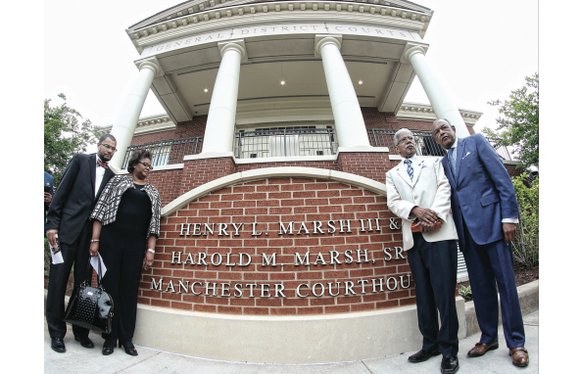 In his remarks, Mr. Marsh expressed gratitude to Mayor Dwight C. Jones and the City Council for naming the courthouse in his honor and that of his brother.
He cited his love of the city and having the support of others.
"I had the privilege of achieving several firsts in my civic and political careers, but … anyone who comes first is usually standing on the shoulders of others."
He also saluted his family, including his wife, Diane, and children, Nadine, Sonya and Dwayne, all of whom were present, and the unsung people who helped make the civil rights victories possible — those "who marched with us, voted with us, prayed for us and stood for us as we tried to change the scales of justice in the former capital of the Confederacy."
He recalled the point at which he determined to take part. He was living in Isle of Wight County with relatives following the death of his mother when he was 5.
His father, a hard-working man, could not afford to raise the four children, but kept working as a waiter until he could reunite the family years later.
Mr. Marsh returned to Richmond when he was 11.
While in Isle of Wight, he said he walked 5 miles to the one-room schoolhouse where one teacher worked with 78 students separated into seven grades.
He said he didn't mind the walk even in inclement weather, but he started noticing yellow school buses passing him. When he asked, he learned that the buses were carrying children to the bigger, better, whites-only public schools.
"It dawned on me at that time that this system isn't right," he said.
That thought later would propel him into a career through which he could foster change.
"Being honored with Harold, to share that privilege, is the highest honor I could ever receive," Mr. Marsh told the crowd.
When cadets from Franklin Military Academy removed the blue draping to show off the new brick sign bearing the courthouse's new name, Mr. Marsh murmured to Mayor Jones, "It looks pretty good."
Mayor Jones presented Mr. Marsh with a key to the city.