Free Thanksgiving meal Nov. 19 in South Side
11/19/2016, 10:56 a.m.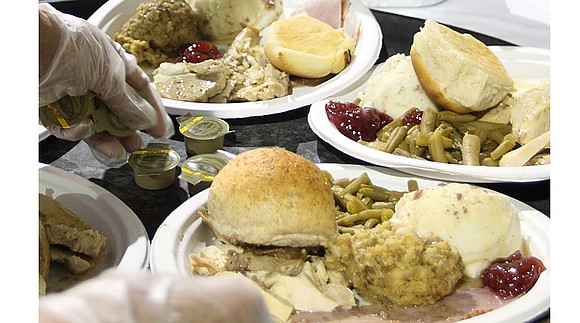 The Richmond Christian Center in South Side will be the host site for a pre-Thanksgiving feast for the less fortunate.
The event, called "A Thanksgiving Meal," will be held noon to 4 p.m. Saturday, Nov. 19, in the fellowship hall of the church at 214 Cowardin Ave., it has been announced.
The nonprofit We Care RVA is teaming up with the church's property manager, Ujima Properties LLC, to offer the free program that will include musical performances.
C.J. Richardson, founder and director of We Care RVA, came up with the idea for the event that precedes a host of other similar free meal events that will be offered on Thanksgiving Day, Thursday, Nov. 24.
"We wanted to do something to benefit people who are having a rough time, and we decided to do it before Thanksgiving to make it easier for volunteers, many of whom will be elsewhere on the holiday," said Forondo B. Holmes, a co-owner of Ujima.
"We're planning for up to 200 people, but everyone is welcome," Mr. Holmes said.

Additional information: Mr. Holmes, (804) 305-1660, or Mr. Richardson, (804) 439-4741.