Gwen Ifill, Washington journalist, was also a historymaker
11/19/2016, 10:59 a.m.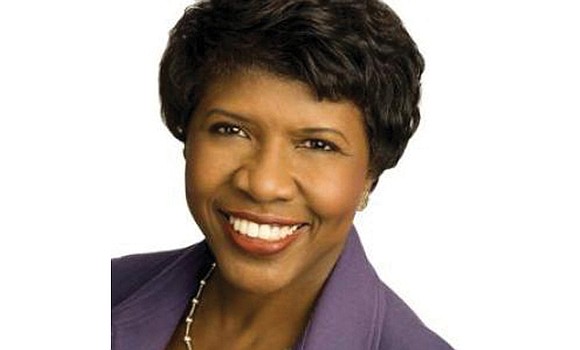 By Wayne Dawkins
Gwen Ifill, a preacher's kid who grew up in New York public housing to embark on a nearly four-decade journalism career and became the gold standard of Washington political reporting, died Monday, Nov. 14, 2016, after a yearlong battle with cancer. She was 61.
Ms. Ifill moderated the February presidential debate between Democratic primary rivals Hillary Clinton and Bernie Sanders. In May, the longtime PBS news anchor took a leave of absence as co-anchor of "The PBS NewsHour" and moderator of "Washington Week" to address health issues.
One of Ms. Ifill's final PBS stories was a report on the opening of the Smithsonian's National Museum of African American History and Culture.
After graduation from Simmons College in Boston in 1977, Ms. Ifill began her career as a reporter at the Boston Herald-American newspaper. She covered local politics there before moving to the Baltimore Evening Sun and later advancing to the big time — covering the White House for The Washington Post and subsequently The New York Times.
Yet, those lofty media perches were not enough. In 1994, Tim Russert of NBC's "Meet the Press" persuaded Ms. Ifill to leave the print world and become a political correspondent at NBC News. She thrived in television and made her next move to PBS and the "NewsHour."
She made history in 1999 when she was named the moderator of "Washington Week in Review," the Friday roundtable show that assembled the best Washington journalists as analysts. Ms. Ifill ran that table.
In 2013, Ms. Ifill, with Judy Woodruff, again made history as an all-women anchor team of the "NewsHour."
Through a stellar career, Ms. Ifill beat back prejudice and ignorance from co-workers and others. As an intern in Boston, a co-worker left her a note with a racial epithet telling her to "go home." Another time, a fellow journalist asked her if she was "in the tank" for Barack Obama during his run for president, she recalled in an interview with The Washington Post. "I'm still capable of looking at his pros and cons in a political sense," she said at the time. "No one's ever assumed a white reporter can't cover a white candidate."
Ms. Ifill said that while covering the U.S. Department of Housing and Urban Development, she was probably the only Washington journalist on the cabinet-level beat who actually lived at one time in federally subsidized housing.
In appreciations posted since her death, Ms. Ifill's media colleagues and friends repeated this phrase: She projected warmth and authority. Even when asking tough policy questions, she delivered those questions with a smile that solicited explanation instead of confrontation.
"I always appreciated Gwen's reporting," President Obama said at a Monday afternoon news conference, "even when I was on the receiving end of one of her tough and thorough interviews."
Plaudits also came from the Congressional Black Caucus through its chairman, U.S. Rep. G.K. Butterfield of North Carolina.
"Ms. Ifill was among the nation's finest political correspondents as she was gracious and poised when addressing some of the most pressing issues facing the country," he said. "Her voice will be missed among journalism and broadcasts, but her legacy will continue to have a lasting impact on how we view news and journalism today.