Giving Heart's Community Thanksgiving Feast warms community for 11 years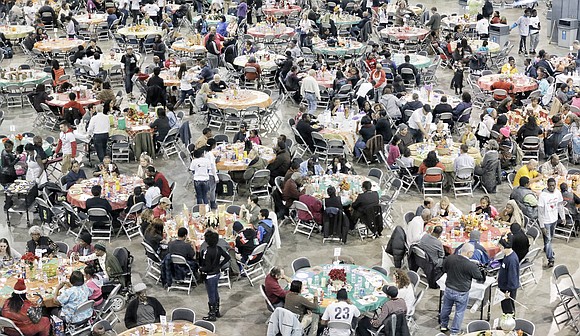 A festive Thanksgiving meal that everyone can enjoy — that's what a community-spirited group will be offering in Richmond on "Turkey Day."
No money needed. No special attire required. Just bring a smile.
The event: The 11th Annual Giving Heart's Community Thanksgiving Feast.
This joyful program will take place from 11 a.m. to 2:30 p.m. Thursday, Nov. 24.
Location: The Greater Richmond Convention Center, 5th and Marshall streets in Downtown. Doors will open at 9:30 a.m.
"This is an opportunity for everyone to enjoy food and fellowship in a worry-free environment," said Vicki Neilson, founder and president of the all-volunteer, nonprofit group.
"This is not just for the hungry and homeless," the big-hearted Rockville resident said. "This is open to all. Bring your family. Bring a neighbor. Bring your friends."
To help people get there, GRTC announced a partnership with The Giving Heart to offer free rides on all bus routes to and from the event between 9 a.m. and 1 p.m. Giving Heart volunteers will be on board buses to validate the free rides and direct guests to the feast, according to GRTC, which will offer additional information on Thanksgiving through its customer service center (804) 358-4782.
While other area faith groups, churches and nonprofits usually offer Thanksgiving meals and many groups and government employees distribute turkey baskets to needy families, The Giving Heart's operation continues to rank as the best-known and largest free feast in the Richmond area for this holiday.
In the past, The Giving Heart has served nearly 3,000 people each Thanksgiving, and Ms. Neilson and the hundreds of volunteers are preparing to host at least that many this year.
This week, ahead of the event, Ms. Neilson and volunteer cooks are roasting 300 turkeys, baking dozens of pies and preparing stuffing, vegetables and the rest of the trimmings to serve guests.
During the feast, she promises that guests will receive a cheery welcome and be escorted to tables decorated with linens and centerpieces and have meals brought to each table.
The Giving Heart also will be offering carry-out food, bags of toiletries and other helpful items for guests who need a little extra. There also will be health screenings and other offerings.

Ms. Neilson has been staging the event since 2006. She stepped in after a previous effort collapsed, and restarted the community feast with help from a small army of volunteers and financial support from the community.
This year, she is expressing thanks for the many helpers and for the support and gifts that are making the dinner possible from a host of individuals and families, five area churches and at least 40 area businesses

Details on the feast and The Giving Heart: Ms. Neilson, (804) 749-4726, or thegivingheart.org