Beauty-n-Motion 5K walk, health expo Oct. 22
10/13/2016, 6:04 p.m.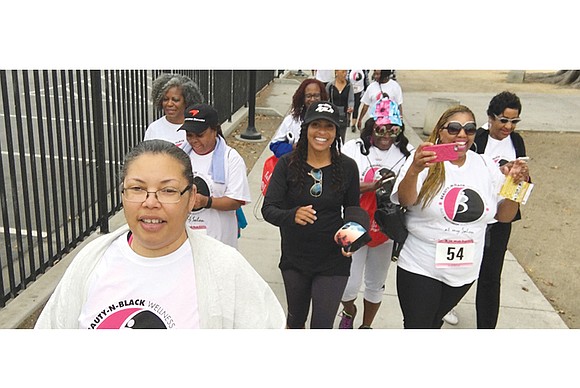 The Black BeautyShop Health Foundation is sponsoring Richmond's first Beauty-n-Motion 5K Walk Run 4 Life Health, Beauty and Wellness Expo on Saturday, Oct. 22, at the Bon Secours Training Center, 2401 W. Leigh St.
Registration begins at 8 a.m., with the walk starting at 9:30 a.m.
Beauty salons, nonprofit organizations, media personalities and community groups are expected to field teams for the 5K walk.
In addition to the walk, the event will feature an expo of speakers, demonstrations and vendors, with an emphasis on the health issues of African-American women and their families.
The foundation's mission includes working with communities to empower women of color to take an active role in health, to bridge the gap in health disparities and to promote healthy living strategies in black-owned beauty shops, according to Margo LaDrew, executive director of the Black BeautyShop Health Foundation.
Tammy D. Hawley, the press secretary to Richmond Mayor Dwight C. Jones, is the Richmond chair of the event, with radio personality "Miss Community" Clovia Lawrence of KISS 105.7 and 99.3 FM, and television anchors Whitney Harris of WRIC and Antoinette Essa of WTVR CBS6 serving as Richmond Health Ambassadors.
Richmond is the second stop on a three-city tour for the event. A walk and expo took place in Los Angeles in June, and another is planned for Atlanta in November.
Event sponsors include the Richmond Free Press, Radio One, Anthem/CareMore, KRPR Media, Toyota and others.
Registration is $35 for ages 13 and older; $25 for children under 13. Information and registration: www.beautynmotion.org.