Muslims respond to Trump with #MuslimsReportStuff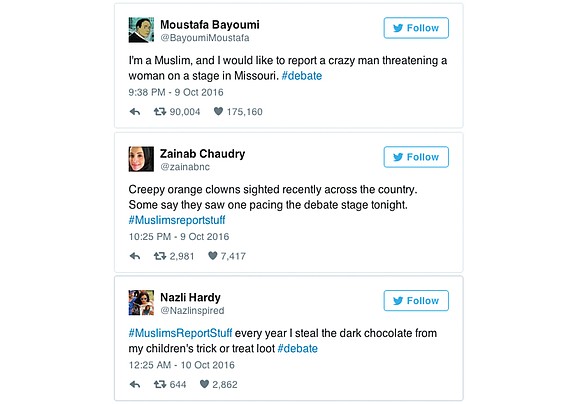 During the second presidential debate last Sunday, Republican presidential candidate Donald J. Trump encouraged Muslims to report suspicious behavior when they see it happening.
Mr. Trump made the comments when asked how he would combat Islamophobia in America. He called Islamophobia a "shame" and said Muslims must remain vigilant in reporting "hatred" they experience.
"We have to be sure that Muslims come in and report when they see something going on," Mr. Trump said.
And many took his advice.
Shortly after Trump made the comments, many Muslims took to Twitter with the hashtag #MuslimsReportStuff to share what they were seeing.
And because the debate wasn't the only thing going on Sunday night, others reported weather updates and culinary tips.
 Mr. Trump said during the debate: "We have to be sure that Muslims come in and report when they see something going on. When they see hatred going on, they have to report it. As an example, in San Bernardino, many people saw the bombs all over the apartment of the two people that killed 14 and wounded many, many people. Horribly wounded. They'll never be the same. Muslims have to report the problems when they see them."
But in a fact check following the debate, the Associated Press reported there's no evidence that Muslims failed to report suspicious activity.
The FBI works closely with the Muslim community and encourages people to report anything they see that might be criminal activity.
In San Bernardino, Calif., a Muslim couple shot and killed 14 people at an office party in December 2015. The couple was killed in a police shootout.
But the FBI has never suggested that people from the Muslim community — or any community — failed to alert authorities that there were many bombs in the couple's home. Law enforcement later found bomb-making materials in the couple's garage. The FBI has said that the shooters were inspired by the Islamic State group.