Howard University renames school for Cathy Hughes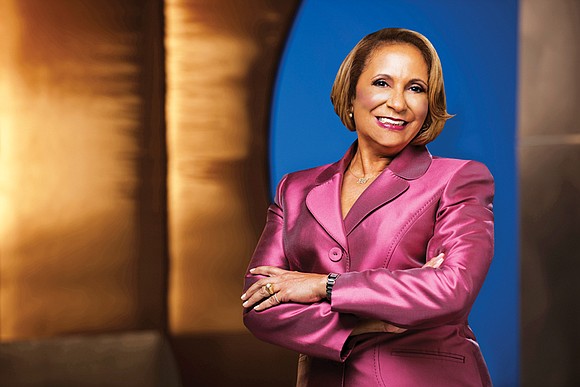 Howard University has renamed its School of Communications the Cathy Hughes School of Communications, after the founder of Radio One Inc., the largest African-American owned multimedia company in the United States.
Dr. Wayne A.I. Frederick, president of Howard University, announced in early October a multimillion-dollar gift to the communications school from the Catherine L. Hughes and Alfred C. Liggins III Foundation.
Ms. Hughes is chair of the board of Radio One, while Mr. Liggins, her son, is president and CEO of the publicly traded corporation.
An official renaming ceremony and celebratory brunch is scheduled for Sunday, Oct. 23, during the end of Howard University's homecoming weekend.
"The gift will have a transformational impact on the school's commitment to serve the communications industry and as a high-level producer of diverse media specialists," Dr. Frederick said in a statement, praising Mr. Liggins for honoring his mother's "pioneering work" in such a manner.
The Catherine L. Hughes and Alfred C. Liggins III Fund will aid the communications school in acquiring cutting-edge technology and equipment to support its programs.
The university's student newspaper, The Hilltop, reported that a source from Howard's Department of Development and Alumni Relations put the donation at $4 million.
While the communications school recently observed its 45th anniversary, the private, research university, founded in Washington in 1867, is about to celebrate its 150th anniversary and is looking to bolster its financial picture for the future.
Ms. Hughes, 69, owes much of her early career success to Howard University. The native of Omaha, Neb., started in the broadcast media in 1969 at KOWH, a black radio station in Omaha. She left Nebraska for Washington when she was offered a job as a lecturer at Howard's School of Communications. In 1973, she was appointed general sales manager of the university's radio station, WHUR 96.3 FM, where she increased station revenue from $250,000 to $3 million in her first year.
In 1975, she became the station's vice president and general manager and created the popular, urban music format known as the "Quiet Storm." It was aired over 480 stations nationwide.
She went on to found Radio One in 1980, which owned up to 70 radio stations through the years.
Currently, Radio One has 56 stations, including WCDX-FM 92.1, WKJS-FM 105.7/99.3, WPZZ-FM 104.7 and WTPS-AM 1240 in the Richmond area, the TV One national cable and satellite television network, 10 nationally syndicated Reach Media radio programs and its six Interactive One branded websites.