North Side sees signs of growth, renewal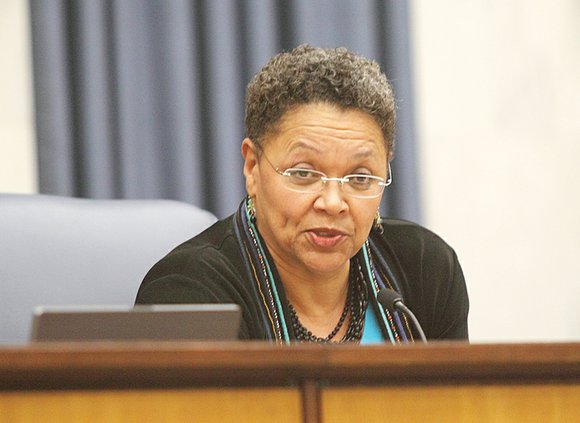 A new wave of investment is beginning to pour into Richmond's North Side.
During the next two years, private and nonprofit developers are gearing up to invest more than $50 million in new houses and apartments, mostly along 1st and 2nd avenues in Highland Park.
Meanwhile, new businesses are beginning to eye the Brookland Park Boulevard corridor in nearby Barton Heights for potential space — harbingers of growth and prosperity in an area once notorious for decay and crime.
"This is going to be huge for this area," said Councilwoman Ellen F. Robertson, 6th District, who has fought to secure city support and funding for the developments.
She said that having so many projects "coming together at the same time will have a positive ripple effect."
The first development is already underway — creation of 32 town homes in the long awaited Matthews Heights subdivision at the southern gateway into Highland Park at Matthews Street and 1st Avenue.
Heavy equipment is carving out new streets and alleys to make way for the $8 million development that the Southside Community Development and Housing Corp. is undertaking. The new home development has been envisioned since the city tore down dilapidated apartments on the hilltop site about 20 years ago.
Just a few blocks north, plans are afoot to add a single-family home component to the Highland Grove community on Dove Street and 1st Avenue that opened in 2013. More than $25 million was invested in the first phase that created 128 apartment homes to replace bedraggled public housing and blighted apartments.
But the follow-up phases to create 120 single-family homes in the development have stalled, in large part because of a conflict over whether to replace Overby-Sheppard Elementary School and where to locate it. Instead of a new school building, Overby-Sheppard will be getting a more than $4 million overhaul from funding secured by Ms. Robertson.
At this point, Ms. Robertson said the Richmond Redevelopment and Housing Authority has hired a consultant to get the single-family home portion of Highland Grove back on track, using the site of a former National Guard Armory the city acquired and tore down. It was to be the site of the school that the School Board nixed.
She said that planning for the potential $26 million subdivision is moving ahead. If all goes well, she said new streets and other infrastructure could be under construction later this year, with the first new homes being built next year.

Meanwhile, another nonprofit, the Richmond Better Housing Coalition, is putting together plans to invest about $12 million to transform the long vacant and blighted St. Elizabeth School building into 60 to 80 apartments. The building is on Fourqurean Lane about two blocks from 2nd Avenue.

Separately, a Washington-based nonprofit is considering a new apartment development as it finishes its first $11 million project — a redo of the former Highland Park Elementary School building into 77 apartments for the elderly at Brookland Park Boulevard and 2nd Avenue. The building is to be the new home for some current residents of Gilpin Court's Fay Towers, which is being replaced.
The company, Community Preservation and Development Corp., is making plans to spend another $10 million to replace a blighted church building across Brookland Park Boulevard with a new building featuring dozens of new apartments and first-floor retail space.
There are additional harbingers of change.
Just a few blocks west at North Avenue and Brookland Park Boulevard, Richmond-based Black Hand Coffee is preparing to move into a former gas station that will be the new home of its coffee roasting and distribution center and café.
Separately, artist Charles Berger is preparing to open the commercial strip's first tattoo parlor.
Nearby, developer Lamar Dixon is planning to develop a former bank building on Brookland Park Boulevard into apartments and business space.

Scott's Funeral Home, meanwhile, is spending about $1.5 million to develop a new chapel and to make improvements to its existing space at 115 E. Brookland Park Blvd.