Richmond Democratic Committee and REA endorse Stoney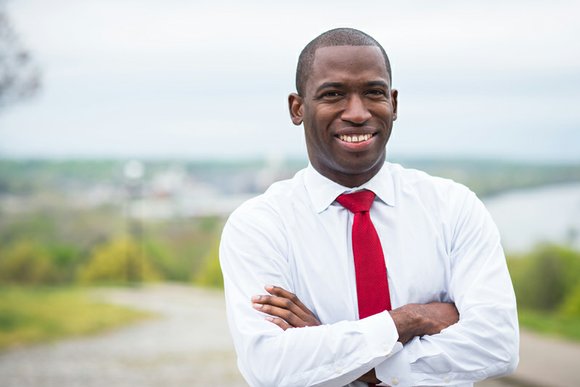 Richmond mayoral candidate Levar Stoney has picked up two significant, but not unexpected endorsements.
The 150-member Richmond Democratic Committee has endorsed Mr. Stoney for the city's top elective post, following the lead of Gov. Terry McAuliffe, who has backed his former state secretary of administration and officially endorsed him Tuesday.
Separately, the Richmond Education Association, which represents more than 2,500 teachers, janitors, bus drivers, secretaries and other support employees in the city public schools, threw its support behind Mr. Stoney on Wednesday.
The city Democratic Committee's decision was made last Thursday at a meeting that drew 111 members. The committee's endorsement announcement followed a committee-sponsored mayoral forum on Sept. 6. The committee includes elected Democrats and others active in the party.
How much impact the two endorsements will have is uncertain — even in a city that is expected to deliver an overwhelming vote for the Democratic presidential ticket of Hillary Clinton and Tim Kaine and for state Sen. A. Donald McEachin's bid for the 4th Congressional District seat.

The first and only publicly released poll earlier this month indicated that Mr. Stoney, who also was endorsed by a trade group for home builders, is running fourth in the eight-way race for mayor, despite eclipsing the rest of the field in fundraising by securing more than $400,000 in donations for his campaign.
The poll from Christopher Newport University identified former Delegate Joseph D. "Joe" Morrissey as having the most support, followed by Jack Berry, retired director of a Downtown booster group. City Council President Michelle R. Mosby was third, according to the poll.
Still the endorsement of the city Democratic Committee led by James J. Minor, son of Richmond Delegate Delores L. McQuinn, could influence voters who seek to vote a straight Democratic ticket in the Nov. 8 general election. The mayoral candidates, as well as candidates for Richmond City Council and Richmond School Board, all run as independents in a nonpartisan race.
The committee plans to issue its endorsements for City Council and School Board seats within the next few weeks.
In the 2012 election, the committee's endorsements for City Council and the School Board appeared to increase support for the chosen candidates by 10 percent to 15 percent in a majority of the nine City Council districts.
Separately, Mr. Berry picked up the endorsement of an influential business group, the Richmond Association of Realtors, adding to his support among the business community.
Mr. Morrissey, who has spent most of his time knocking on doors in running a shoe leather campaign, so far has been unfazed by failing to pick up any endorsements.
The REA also issued its endorsements in City Council and School Board contests, with several surprises, including its decision to back challengers to School Board incumbent Mamie Taylor in the 5th District and to City Council incumbent Ellen F. Robertson in the 6th District. The REA also did not endorse any candidates for School Board in the 4th and 8th districts.
The REA's choices by district for City Council and School Board, respectively: 1st District: Harry H. Warner Jr.; incumbent J.E. "Dawson" Boyer; 2nd District: Kimberly B. Gray; J. Scott Barlow; 3rd District: incumbent Chris A. Hilbert; incumbent Jeff M. Bourne; 4th District: Kristen Nye Larson; no School Board endorsement.
5th District: incumbent Parker C. Agelasto; Patrick M. Sapini; 6th District: Donald L. Moss III; incumbent Shonda M. Harris-Muhammed; 7th District: incumbent Cynthia I. Newbille; Nadine D. Marsh-Carter; 8th District: incumbent Reva M. Trammell; no School Board endorsement; and 9th District: Michael J. Jones; Linda Baker Owen.