Trump to speak at Lynchburg school's commencement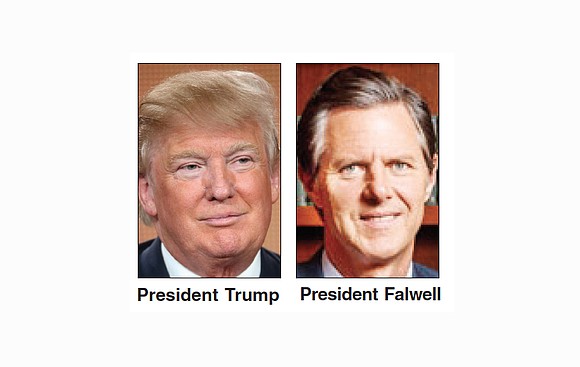 President Trump will give the commencement address this spring at Liberty University in Lynchburg.
"I look forward to speaking to this amazing group of students on such a momentous occasion," the president said in breaking the news on March 22 to CBN News, the Christian Broadcasting Network in Virginia Beach founded by televangelist Pat Robertson.
"Our children truly are the future and I look forward to celebrating the success of this graduating class as well as sharing lessons as they embark on their next chapter full of hope, faith, optimism and a passion for life."
The announcement follows the news Vice President Mike Pence will speak at the University of Notre Dame's commencement.
The May 13 speech at Liberty University's football stadium will be President Trump's first commencement address as president, but it won't be his first at Liberty, which describes itself as the largest Christian university in the world.
The then-presidential candidate spoke last year at the university's convocation, promising, "I will protect Christians," and famously stumbling over a reference to "Two Corinthians."
Late in the campaign, both Mr. Pence and Faith & Freedom Coalition head Ralph Reed made the case for President Trump in separate appearances at Liberty's convocation after the release of video of the candidate making lewd remarks about women.
Liberty University President Jerry Falwell Jr. was one of President Trump's most outspoken evangelical Christian supporters during the campaign and since has taken a role heading a White House task force on reforming higher education. The two reportedly have become good friends, with the Falwell family paying a social visit to the White House in mid-March, according to David Brody of CBN News.
The university's association with President Trump hasn't been without controversy. A group of students calling themselves Liberty United Against Trump spoke out against President Falwell's endorsement of the president, and Liberty board member Mark DeMoss resigned his position over it.
But, in giving Liberty's commencement speech, Mr. Brody said President Trump "is again showing that he has not forgotten evangelicals since he's been president."
The network pointed to President Trump's nomination of Judge Neil Gorsuch to the U.S. Supreme Court, his reinstatement of a rule banning U.S.-funded groups around the world from discussing abortion and his failed plan to replace the Affordable Care Act. All are issues important to the evangelical Christians, who overwhelmingly voted for the president.