Morehouse Debate Team wins big at North American Championship
4/21/2017, 6:51 a.m.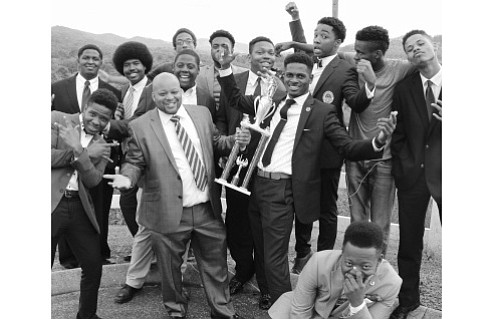 It was more like a sequel to the film "The Great Debaters" recently as the Morehouse College Debate Team reigned supreme at the 2016-17 Lafayette Debates North American Championship in Washington.
Morehouse's final round victory April 9 over Vanderbilt University garnered not only bragging rights and the coveted traveling trophy that dates back 235 years, but also positions the HBCU as the fifth most successful debate team in the nation.
"This is a very big deal," said Ken Newby, the Morehouse College debate coach.
Coach Newby accompanied the two-man team of senior Jonathan Carlisle and junior Keith Matier to the competition.
As part of their prize, the young men will receive a free trip to Paris to participate in a debate study program allowing them to hone their skills even more.
"It's a great privilege to have won the study tour to Paris," said Mr. Matier. "It's humbling that debate has taken me out of the country multiple times. I didn't have a passport before enrolling into Morehouse."
Neither of the young men had prior team debating experience before enrolling at Morehouse, but both have truly exceeded expectations.
During the two-day competition, Mr. Matier and Mr. Carlisle managed to best opposing debaters from West Point, Yale, Cornell, University of Georgia, George Washington University and teams from Canada and France before beating Vanderbilt.
The debate topic: Should democracies prioritize interculturalism as a strategy for managing diversity. The team had to argue both sides of the issue.
Coach Newby felt the Morehouse team's unique perspective of being young African-American males living in America gives them a competitive advantage.
"We usually take a novel approach that other teams don't take or expect," he said.
However, the coach gives the majority of the credit to his dream team of Mr. Carlisle and Mr. Matier, who stood out among their peers in their preparation and argument construction.
With this latest victory, Morehouse has won seven national and four international titles since 2011 — all under Coach Newby's leadership.
But like any great championship team, Morehouse is not resting on its laurels. They hope to bring home more trophies from competitions around the world.