Serena's pregnant!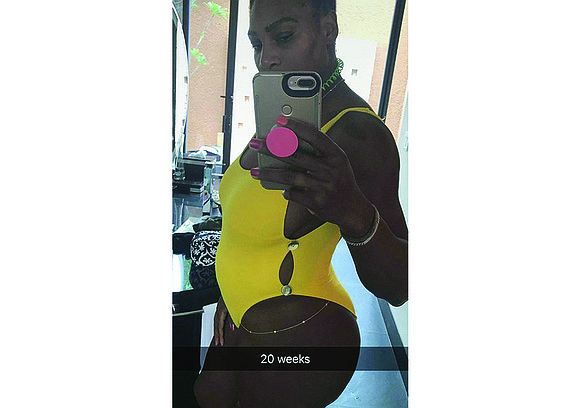 Tennis superstar Serena Williams is pregnant and taking maternity leave through the rest of 2017, with the baby due this fall, her spokeswoman announced last week.
The revelation was first hinted at in a Snapchat selfie of the tennis star in a yellow, one-piece swimsuit posted on social media with the caption "20 weeks."
Serena deleted the photo shortly after it appeared April 19 and waited more than six hours to make any public comment, stoking debate among tennis fans about whether or not she was joking.
The confirmation upended a sport the 35-year-old athlete has dominated for the past decade.
"I'm happy to confirm Serena is expecting a baby this fall," Los Angeles-based publicist Kelly Bush Novak said.
Bush Novak said that Serena intended to sit out the remainder of the 2017 season and return next year.
Serena, the world's highest paid female athlete, has not played since January. She apparently will miss two major upcoming events — the French Open in May and Wimbledon in July.
In December, she announced her engagement to Reddit co-founder Alexis Ohanian.
If Serena's is indeed 20 weeks into her term, that would mean she was approximately two months pregnant when she captured her record 23rd Grand Slam tournament singles title at the Australian Open in January.
Her victory over older sister Venus Williams broke a tie with Steffi Graf for the most Grand Slam singles championships in the sport's modern era. Serena Williams has not played since then, citing a knee injury.
Fans and celebrities reacted with a mixture of awe and glee to Serena's Snapchat post.
"Serena Williams was pregnant when she won her 23rd grand slam tournament at the Australian Open. And did not drop ONE SET. Let that sink in," wrote Twitter user @noelleharmony.
"So Serena cheated," Trevor Noah, the host of "The Daily Show" on Comedy Central, wrote on his Twitter account. "Because that's technically a doubles match."
The Women's Tennis Association congratulated Serena on Twitter before deleting its post.
Tennis' U.S. governing body, the United States Tennis Association, wrote on Facebook, "Join us in congratulating the GOAT and her fiancé Alexis Ohanian on this incredible news!" referring to Serena with the acronym for "Greatest of All Time."
The happy news didn't stop racist comments, however.
The International Tennis Federation said last Saturday it has launched an investigation into Romania's Fed Cup captain Ilie Nastase after the former world No. 1 player allegedly made a derogatory comment about Serena's unborn child.
Nastase, 70, was heard speaking in Romanian to one of his team members about Serena's baby during the Fed Cup draw in Constanta, Romania, on April 21.
"Let's see what color it has. Chocolate with milk?" he was quoted as saying.
Serena's fiancé is white.
"The ITF does not tolerate discriminatory and offensive language and behavior of any kind," the Federation said in an emailed statement. "We are aware of alleged comments made by Romanian Captain Ilie Nastase and have begun an immediate investigation so that we have the full facts of the situation before taking further and appropriate action."