Rev. Jesse Jackson announces Healing and Rebuilding' tour in Richmond
8/4/2017, 7:37 a.m.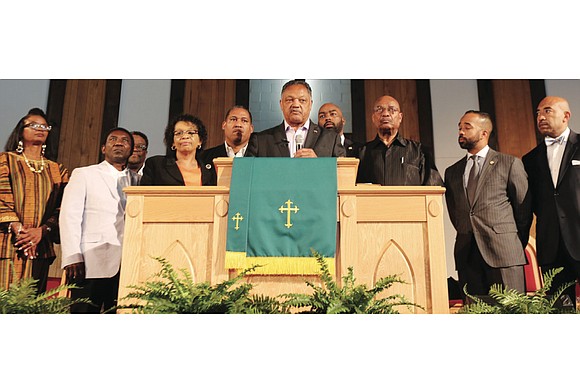 By Ronald E. Carrington
The Rev. Jesse L. Jackson Sr. urged parishioners at Trinity Baptist Church in Richmond to lift the community by voting in Virginia's statewide election for governor in November.
Speaking at the church on Sunday, the 76-year-old founder of the Rainbow PUSH Coalition and civil rights leader said the most important issue in the governor's race will be protecting health care and Medicaid.
"If you are concerned about Medicaid, which will affect thousands in the state, you ought to vote," he said.
He urged people to become more aware of the policy issues that impact their lives.
Health care may prove to be a key issue in November's election for Virginia's next governor. Democratic candidate Ralph S. Northam, a physician and the current lieutenant governor, has said that while the Affordable Care Act, or Obamacare, needs improvement, he supports Medicaid expansion in the state.
He also has blasted his Republican opponent, Ed Gillespie, for supporting GOP plans that he said would put the health care of thousands of Virginians at risk and would cost Virginia more than $1 billion in lost Medicaid funds during the next decade.
Meanwhile, Mr. Gillespie, a former lobbyist and Republican National Committee chairman, has called Obamacare "a disaster for Virginia," saying it has driven up health care premiums, caused Virginians to lose their choice of doctors and forced major health companies including Aetna out of the Virginia market." He also has failed to take a position on the GOP health care plan in Washington.
Rev. Jackson applauded the U.S. Senate, which on a 51-49 vote last Friday stopped GOP efforts to repeal the Affordable Care Act. More than 32 million Americans would have lost health insurance coverage under the GOP plan, according to the nonpartisan Congressional Budget Office.
Three Republicans joined Democratic senators in the dramatic rejection of the Republican rollback attempt. They were Sen. John McCain of Arizona, Sen. Susan Collins of Maine and Sen. Lisa Murkowski of Alaska.
"Everything we've fought for the last 50 years is under attack — affordable health care, voting rights, women's rights, worker's rights, environmental protections. We've never lost a battle we fought and we've never won a battle unless we fought.
"It's time to register, vote and fight," Rev. Jackson said.
Rev. Jackson also called for Virginia to adopt automatic voter registration for young people when they turn 18. He said such legislation was approved earlier this year by the Illinois legislature in a rare, bipartisan move in a statehouse marked by years of dysfunction and partisan bickering. It will lead to more Illinois residents participating in local, state and national elections, he said.
Rev. Jackson ran for the Democratic nomination for president in 1984 and 1988 and was active in the mid-1960s as a college graduate working with Dr. Martin Luther King Jr. and the Southern Christian Leadership Conference. He started Operation PUSH in 1971, which has since become the Rainbow PUSH Coalition.
The organization is in the planning stages of a "Healing and Rebuilding" bus tour around Virginia this fall to push voter registration and engagement to protect health care. Gary L. Flowers of Richmond, host of the Gary Flowers Show on WREJ-FM radio station and former Rainbow PUSH Coalition vice president and national field director, will serve as the state coordinator. They plan to target Southwest Virginia, among other areas of the state, ahead of the November election.