Rev. Jesse Jackson announces Healing and Rebuilding' tour in Richmond
8/4/2017, 7:37 a.m.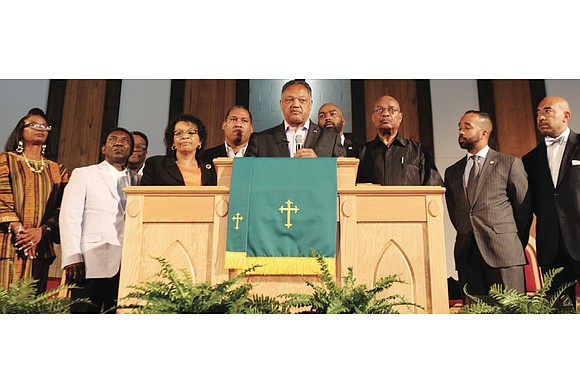 "Informed citizens vote in their own interests, regardless of race and party," Mr. Flowers said. "Every day, coal miners die of black lung disease and other health issues associated with mining. State senators and delegates who favor big business, while putting people off Medicaid and voting not to enforce Occupational Safety and Health Administration standards, betray their constituents."
For all America, especially rural America, it is not about black and white, but wrong and right, Mr. Flowers said.
Rev. Jackson's attention to health care was only a portion of his sermon at the North Side church and his message in a news conference that followed the 8 a.m. worship service.
He punctuated his sermon by tracing African-Americans' journey, struggles and victories in the Civil Rights Movement. He also illustrated the movement's impact to open freedom's doors to rights for other communities, including women's rights, LGBTQ rights, rights for the disabled and to equal public education for children regardless of physical or mental abilities.
Rev. Jackson was joined at the news conference by Delegates Lamont Bagby and Jeff Bourne of the Virginia Legislative Black Caucus and its chairwoman, Delegate Roslyn C. Tyler of Sussex.
"We are rebuilding a rainbow coalition of conscience, mass voter registration and turnout efforts across Virginia," he told the congregation, asking people to support the effort and to spread the word.
"The crown jewel of our democracy is the protected right to vote," he said.
"America must stop the violence and move from a racial battleground to a moral common ground to economic higher ground."
When asked during the news conference whether he supports the removal of Confederate monuments in Richmond and from public spaces across America, he said, "We must join the Union. The war is over and the Confederacy lost." Members of the congregation responded with applause.