Fans pick 'The 50 Greatest Black Athletes'
8/18/2017, 3:38 a.m.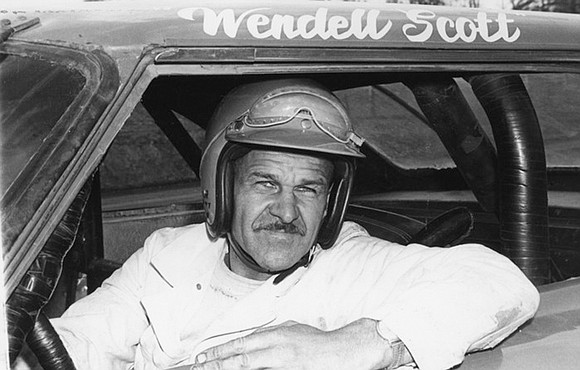 If compiling lists is meant to stir controversy, "The 50 Greatest Black Athletes" struck its target.
The survey, released Aug. 8, is a collaboration of The Undefeated and Survey Monkey and makes an attempt — some suggest a wild stab — at naming the 50 greatest black athletes of all time.
The Undefeated is ESPN's forum focusing on the intersection of sports, race and culture.
Survey Monkey is an online operation that tallied votes from a nationwide sampling of 20,000 sports fans ages 18 and older.
Voters were given 200 names to choose from based on three qualities — dominance, importance to society and inspiration.
As one might expect, there is much room for differing opinions. 
The surprisingly high selections of Olympic gymnasts Simone Biles, who ranked No. 8, and Gabby Douglas, who ranked No. 9, shot eyebrows through the roof. The gold medalists, whose brilliant careers were short-lived, were chosen ahead of the likes of tennis sensation Venus Williams (No. 15), NBA legend Wilt Chamberlain (No. 26), NBA star LeBron James (No. 29) and NFL all-time great Jim Brown (No. 30).
Still, rather than nit-pick over how high or low someone was selected, let's examine those not making the "Top 50" list at all.
The absentees might surprise you.
Jack Johnson: First black heavyweight boxing champ (1908-1915).
Kenny Washington and Woody Strode: Seven months before Jackie Robinson broke baseball's color barrier, Washington and Strode did the same during the 1946 NFL season with the Los Angeles Rams.
Larry Doby: The second African-American to break the color barrier in baseball (1947) and second black manager (1978).
Don Newcombe: First black pitcher (1949); only man to be Rookie of the Year, MVP and Cy Young Award winner in the same season.
Althea Gibson: In spectacular fashion in the 1950s, she crossed the color line in both tennis and golf.
Abebe Bikila: The Ethiopian marathon runner was the first from an African continent to win an Olympic gold medal (1960).
Wendell Scott: Broke NASCAR's color barrier (1953) and steered his way to the NASCAR Hall of Fame.
Bob Hayes: Only man to win an Olympic gold medal (100 meters, 1964) and play on a winning team in Super Bowl VI with the Dallas Cowboys.
Tommie Smith and John Carlos: Famous for their 1968 Olympic podium protest in Mexico City after placing first and third, respectively, in the 200 meters.
Charlie Sifford: Puffing on a signature cigar, he broke the PGA color line in 1961. He claimed two tour victories.
Moses Malone: Preceding a Hall of Fame NBA career, the Petersburg native was the first player to jump straight from high school to the pros.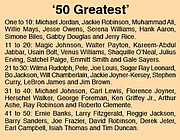 Art Shell: An NFL Hall of Fame lineman, he became the first African-American NFL coach with the Oakland Raiders in 1989.
Frank Robinson: Ranks with baseball's all-time sluggers; he also was the first African-American Major League Baseball manager (1975, Cleveland Indians).
Mike Tyson: Youngest heavyweight boxing champ ever at age 20, and perhaps the hardest puncher — 44 of his 50 wins were by knockout.
Barry Bonds: Though never the warm and fuzzy type, he was a 14-time All-Star while setting the MLB home run record (762).
Last but not least … Tiger Woods: Except perhaps for Babe Ruth in baseball, no athlete ever so dominated his sport. He claims 79 PGA tour victories, including 14 Majors.
Omitting Tiger Woods from any list of all-time athletic greats is an easy way to start a heated conversation — and perhaps that was the whole idea.