Downtown to light up Friday with 33rd Annual Grand Illumination
12/1/2017, 8:39 p.m.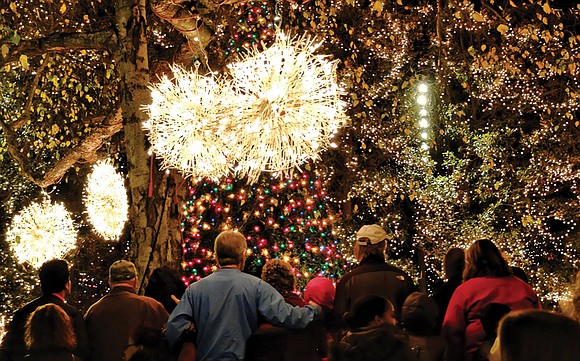 Holiday merrymakers can step back in time with a free Victorian Christmas and illumination event at the Edgar Allan Poe Museum and garden 6 to 9 p.m. Friday, Dec. 1. Costumed interpreters will demonstrate what Christmas was like during the poet's time and guests can make Victorian Christmas crafts while enjoying hot cocoa, apple cider, coffee or mulled wine at the Poe Museum, 1914 E. Main St. Details: www.poemuseum.org or (804) 648-5523.
Handel's "Messiah" will be presented by the Richmond Symphony at 7:30 p.m. Friday, Dec. 1, at the Carpenter Theatre Dominion Arts Center, 600 E. Grace St. The Richmond Symphony Chorus will join instrumentalists for the holiday classic.
And at 8 p.m., Saturday, Dec. 2, the Richmond Symphony Pops 2 will present "Let It Snow!" a holiday concert at the Carpenter Theatre featuring the sounds of the season by the Richmond Symphony and the Richmond Symphony Chorus, with guest vocalist Susan Greenbaum.
Tickets are required for both events. Details and tickets: www.richmondsymphony.com or (800) 514-3849.
Thousands of spectators are expected to line Broad Street for the 34th Annual Dominion Energy Christmas Parade on Saturday, Dec. 2. The parade, which is free, begins at 10 a.m., with floats, marching bands and Santa starting at the Science Museum of Virginia, 2500 W. Broad St., and moving east on Broad Street to 7th Street.
This year's parade grand marshals are Margot Lee Shetterly, author of "Hidden Figures," and Dr. Christine Darden, a retired NASA mathematician, data analyst and aeronautical engineer, who was one of the women featured in the book. The book was turned into a popular movie by the same name.
For details on all of the events in Downtown, go to www.venturerichmond.com or call (804) 788-6466.