Personality: Kathryn Wall
Spotlight on board chair of Children's Home Society of Va.
12/1/2017, 7:17 p.m.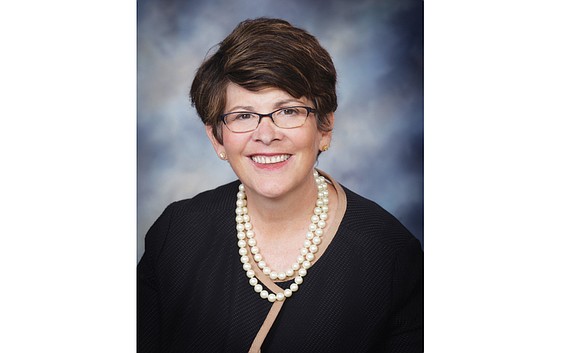 While the private agency receives some government funding, it depends on private donations from individuals, corporations and foundations to carry out its work, Ms. Wall says.
Its inaugural "Eve of the Eve Gala," a fundraiser 7:30 p.m. Dec. 30, at Casa del Barco, 320 S. 12th St., is designed also to attract younger volunteers — and possibly new adoptive families—by exposing them to CHS' mission and activities.
"What foster children want in life is a permanent family," Ms. Wall says. "They ask, 'How do I find my permanent family?' They want to be wanted."
Meet adoption advocate and this week's Personality, Kathryn Wall:
Occupation: Executive vice president of human resources for Mary Washington Healthcare in Fredericksburg.
Date and place of birth: May 20 in Washington.
Current residence: Fredericksburg.
Alma maters: Bachelor's in art history, University of Virginia; master's in education, George Washington University; and completed a fellows program in change managemadent, Johns Hopkins University.
No. 1 volunteer position: Chair of the board of directors, Children's Home Society of Virginia.
CHS' mission: To build strong, permanent families and lifelong relationships for Virginia's at-risk children and youths.
How CHS accomplishes its mission: Children's Home Society provides a continuum of programs and services built around permanency. These services include birth parent counseling; infant adoption; adoption out of the foster care system, particularly for teenagers; post adoption services, including respite care and, through a unique partnership with the Better Housing Coalition, The Possibilities Project, which is designed to provide housing and full wrap-around services for youths who have aged out of the foster care system. CHS is also proud to be one of only three Virginia recruiters for Wendy's Wonderful Kids, a signature program of the Dave Thomas Foundation for Adoption, a national nonprofit finding forever families for children in foster care.
Agency's No. 1 challenge: Our main challenge is getting teenagers adopted into permanent homes. There is limited funding available from the state Department of Social Services, so it is crucial to make and exceed our private fundraising goals so that we can continue to support these vulnerable children and youth.
CHS' annual budget: About $1.8 million.
How and why I find time for this volunteer responsibility: I believe in the mission of CHS. With more than 700 children waiting for permanent families here in Virginia, it is essential that we help. It is the right thing to do for our communities. Without support, many of the kids who age out of foster care face incredible odds and I want to ensure that all of Virginia's kids have a bright future. I also am in awe of the CHS team. They are unsung heroes who give unselfishly to help create families.
Goals for your tenure as board chair:  To support the agency in the completion of the strategic plan that focuses on four areas — growing programs and service, ensuring that we are able to attract and retain top talent, meeting our financial goals and being seen as an expert for addressing the needs of at-risk children.