Priest aids in Mugabe relinquishing power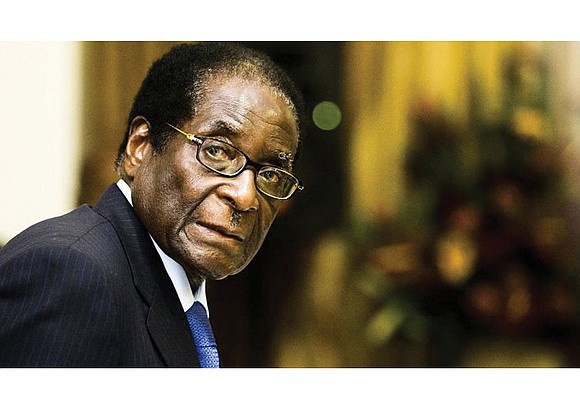 CHISHAWASHA, Zimbabwe
Zimbabwe's former President Robert Mugabe knew it was "the end of the road" days before he quit, and appeared relieved when he signed his resignation letter after 37 years in power, said a Catholic priest who mediated talks leading to his removal from office.
The Rev. Fidelis Mukonori, who has known Mr. Mugabe for decades, said in an interview with The Associated Press on Sunday that Mr. Mugabe, under immense pressure in his final days as president, wanted a gradual and "smooth" transition of power to Emmerson Mnangagwa, the vice president he recently had fired and who is now Zimbabwe's new leader.
Mr. Mugabe had to resort to "Plan B" — an immediate resignation — after Mr. Mnangagwa did not return from exile in South Africa at Mr. Mugabe's request, according to Rev. Mukonori.
The interview at the Chishawasha mission church east of Harare, Zimbabwe's capital, revealed some of the behind-the-scenes maneuvering at the frantic end of Mr. Mugabe's rule, which began with promise after the end of white minority rule in 1980 and unraveled under pressure from virtually all sectors of a society worn down by economic decline, government dysfunction and restrictions on basic freedoms.
Events moved quickly after the military deployed troops in Harare on Nov. 14. The 93-year-old leader resigned a week later, and President Mnangagwa was inaugurated last Friday in a joyous ceremony attended by tens of thousands of people yearning for change.
While Mr. Mugabe realized several days before his resignation that he couldn't stay on as president, he clung to the idea that he could remain in his post at least until a ruling party congress next month to ensure a "smooth handover," Rev. Mukonori said.
In a televised address on Nov. 19, Mr. Mugabe shocked many Zimbabweans who had expected him to announce his resignation by instead saying that he would preside over that congress, even though the ruling ZANU-PF party had fired him as party leader just hours before.
"I sympathize with the people in the street. They didn't know what was happening," Rev. Mukonori said. "The man had already realized that this is the end of the road."
Mr. Mugabe was unable to control the terms of his exit after a lifetime of exercising the deft political skills and outright ruthlessness that kept him in power for so long.
He had lost his grip on the ruling party, where factional feuding reached a boiling point with the dismissal of Mr. Mnangagwa and the open ambitions of Mr. Mugabe's 52-year-old wife, Grace, to take over from her husband in a dynastic succession that many Zimbabweans found abhorrent.
The military said it intervened to target "criminals" around Mr. Mugabe, and Rev. Mukonori focused on talks with generals aimed at resolving the political crisis, shuttling between the president's private residence, the presidential office at State House and military barracks.
Mr. Mnangagwa, who has close ties to the military and had fled Zimbabwe, was the "one figure missing" in the talks, Rev. Mukonori said. Hours before Mr. Mugabe's Nov. 19 speech, the priest said, Mr. Mugabe spoke to Mr. Mnangagwa for 10 minutes by telephone and implored his former deputy to return, saying: " 'Emmerson, come back now, now, now. Let's deal with this issue.' "