Wedding bells for Meghan Markle and Prince Harry
Reuters | 12/1/2017, 6:30 p.m.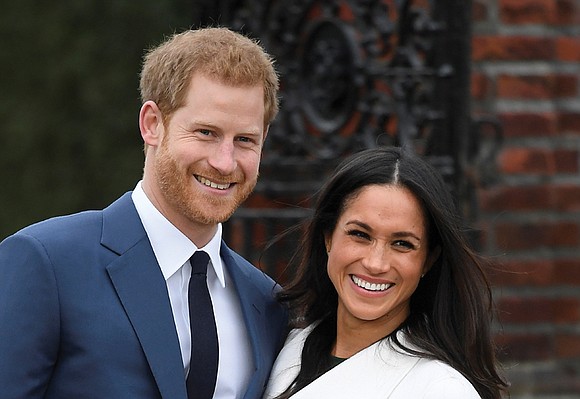 The couple posed for photographs earlier Monday on the grounds of Kensington Palace in central London, where the couple will live in a cottage.
Ms. Markle showed off a dazzling three-stone ring designed by Prince Harry. At its center is a diamond from Botswana, surrounded by two diamonds taken from the personal collection of his late mother, Princess Diana. Prince Harry said she would have been "thick as thieves" with Ms. Markle.
"It's so important to me to know that she's a part of this with us," Ms. Markle said.
The wedding is likely to attract huge attention across the world, as did the marriage of Prince Harry's elder brother, Prince William, to Kate Middleton in 2011.
"We are very excited for Harry and Meghan," Prince William and Kate said in a statement. "It has been wonderful getting to know Meghan and to see how happy she and Harry are together."
Like Prince William's wife, Ms. Markle will not become a princess in her own right after marrying Prince Harry. However, like his brother, Prince Harry is likely to be made a duke when he marries, meaning Ms. Markle would become a duchess.
Ms. Markle was born in Los Angeles in 1981. Her father was a TV lighting director for soaps and sitcoms and her mother a clinical therapist.
She made her first TV appearance in a 2002 episode of the soap opera "General Hospital" and has appeared in a number of TV shows and films, such as "Horrible Bosses." But she achieved her greatest fame for her starring part as Rachel Zane in the TV series "Suits."
In 2011, Ms. Markle married film producer Trevor Engelson, but they divorced two years later. She had her own lifestyle blog, thetig.com, which she recently shut down. Like her future husband, she has become a humanitarian campaigner.
Prince Harry's easygoing manner with the public has made him one of the most popular members of the Windsors. That has put him at the forefront of a rebranding of the monarchy as modern and relevant, a far cry from the perception of a hopelessly out-of-touch institution following Princess Diana's death.
To coincide with the 20th anniversary of her death this year, Prince Harry opened up about his own trauma at losing his mother at a young age.
Ms. Markle criticized President Trump in a TV interview before last year's election, calling him misogynistic.
Britain's royals traditionally avoid making any political interventions and Prince Harry said he had confidence that his wife-to-be would be able to handle the pressures her role would bring.
"I know the fact that she'll be unbelievably good at the job part as well is obviously a huge relief to me because she'll be able to deal with everything else that comes with it," he said. "We're a fantastic team. We know we are."