VSU's top players know winning formula
12/8/2017, 7:07 a.m.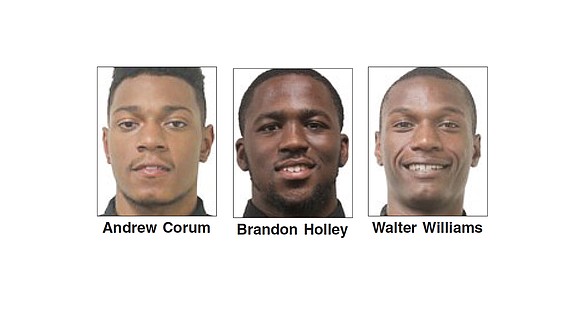 Two traits Virginia State University basketball Coach Lonnie Blow III hunts for on the recruiting trail are talent and a winning background.
He has hit the bullseye on both counts with juniors Walter Williams and Brandon Holley and sophomore Andrew Corum, members of the current undefeated VSU Trojans. All three have posted glistening statistics during VSU's 6-0 takeoff this season. And all three arrived at Ettrick with state championship résumés from high school.
"You like to bring in kids that have won before," Coach Blow said. "They know what it means to sacrifice, what it takes to be a champion."
March 2015 was a banner time for Williams, Holley and Corum. Williams was a leader for a Henrico High School squad that wrapped up the state Group 5 title with a 78-64 victory over Norview High School of Norfolk at Virginia Commonwealth University's Siegel Center.
On that same floor, Holley impressed as George Wythe dominated Spotswood High School of Rockingham County for the state 3A crown.
Meanwhile, Corum drew raves for his performance for Middleburg Academy in its 66-62 victory over Christ Chapel Academy in the final of the Virginia Independent Schools Division 3 tournament.
Coach Blow didn't have to travel far to scout Corum. The Independent Schools final was held at VSU's Daniel Gymnasium.
Interestingly, both Williams and Holley played in high school under coaches who had been players for Virginia Union University.
Williams blossomed at Henrico High under the coaching of former Panther Vance Harmon, a member of VUU's 1992 NCAA Division II national championship squad.
Holley starred at George Wythe under Coach Willard Coker, a member of VUU's 1980 NCAA championship team and an assistant coach under Dave Robbins for 1992 and 2005 titles.
In his third season with the Trojans, the 6-foot-4 Williams is averaging 13 points, 8 rebounds and 3 assists. Also, he's often the unofficial leader in "oohs and ahhs" with his gravity defying dunks.
Holley, a 6-foot-2 transfer from Trinity Valley Community College in Texas, averages 12 points while hitting an astonishing 22 of 34, or 65 percent, from beyond the arc. That includes 6-for-6 against Bluefield State College.
Corum, a 6-foot-7 low post performer, averaged nine points and eight rebounds in just 15 minutes per game. He corralled a whopping 17 rebounds against Newport News Apprentice School.
Following an exam break, VSU returns to the court Tuesday, Dec. 12, for a 5:30 p.m. tipoff against Wheeling Jesuit University of West Virginia at the VSU Multi-Purpose Center.  
In the meantime, here's what Coach Blow said of his state champion recruits:
Of Williams: "It's kind of weird. Walter played center in high school and, right away, we converted him to small forward. Now he's an experienced kid on the perimeter."
Of Holley: "An outstanding shooter, we've asked Brandon to improve his defense and ball handling. We want him to be more than just a 3-point shooter."
Of Corum: "Andrew didn't play much as a freshman, but we knew his potential. He's a talented kid who's been one of our more consistent players."
In his four VSU seasons, Coach Blow has posted a record of 70-20, including a CIAA title and an NCAA appearance in 2016.