Hanukkah continues through Dec. 20
12/15/2017, 7:07 a.m.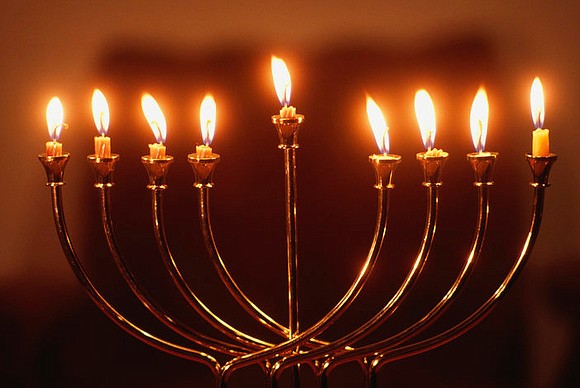 Free Press wire, staff report
Public menorah lightings for the Jewish holiday of Hanukkah are planned around the world in locations ranging from ski towns and Caribbean islands to famous landmarks and sports arenas.
Hanukkah began Tuesday evening and lasts for eight days, until the evening of Wednesday, Dec. 20.
The Jewish outreach organization Chabad-Lubavitch plans Hanukkah events in hundreds of cities, from the 50 U.S. states to 100 countries.
Celebrations in Vail, Colo., will include menorahs made from skis. In New Mexico, organizers hope to create a one-of-a-kind menorah made from hot-air balloons on Dec. 17 in Albuquerque's Balloon Fiesta Park, which hosts the International Balloon Fiesta each October.
Vacationers in destinations such as Cancun, Mexico, and Aruba will also have menorah lightings to attend, along with one in Curacao, home to the oldest synagogue in the Western Hemisphere, dating to 1732.
Many ceremonies will take place in front of landmarks, including the White House in Washington, the Eiffel Tower in Paris, the Kremlin in Moscow and Germany's Brandenburg Gate.
London's Trafalgar Square will host a 30-foot menorah outfitted with specially designed environmentally friendly bulbs, commissioned by the London Climate Change Agency.
The world's largest menorah, standing 36 feet high, will be lit just outside Central Park in New York City across from the Plaza Hotel at Grand Army Plaza. That menorah lighting began in 1977 and marks its 40th consecutive year this month.
In Richmond, the Weinstein Jewish Community Center is hosting a community menorah lighting at 5:45 p.m. Thursday, Dec. 14, Monday, Dec. 18, and Tuesday, Dec. 19 at the center's Neil November Plaza, 5403 Monument Ave.
The Festival of Lights celebration will include reciting a blessing and singing songs.
Details: Weinstein Jewish Community Center, (804) 285-6500.
Chabad of Virginia also is hosting its 16th Annual Community Chanukah on Ice celebration from 3 to 5 p.m. Sunday, Dec. 17, at The Rink at West Broad Village, a seasonal ice rink at 2301 Old Brick Road in Short Pump.
The event, which is free and open to the public, will include music, hot cocoa, doughnuts and the 5 p.m. lighting of a giant menorah marking the sixth night of Hanukkah. Skate rentals are $10.
Details: www.chabadofva.org or (804) 740-2000.
Sports arenas also are hosting Hanukkah events, including the NBA arenas of the Brooklyn Nets, Orlando Magic, Miami Heat, Houston Rockets, Dallas Mavericks, Golden State Warriors, Phoenix Suns and Atlanta Hawks; the NHL arenas of the Arizona Coyotes, New York Islanders, Nashville Predators, Tampa Bay Lightning, New Jersey Devils and Columbus Blue Jackets; and the NFL stadium of the Tampa Bay Buccaneers.
Thousands of people are expected Dec. 18 for a Hanukkah concert and menorah lighting at Gulfstream Park, the horse racing track in Hallandale Beach, Fla., near Miami.
Elsewhere around the world, events are expected in countries ranging from Australia to Laos to Uganda to Argentina.