Jackie Robinson fêted for football too
Fred Jeter | 12/15/2017, 7:15 a.m.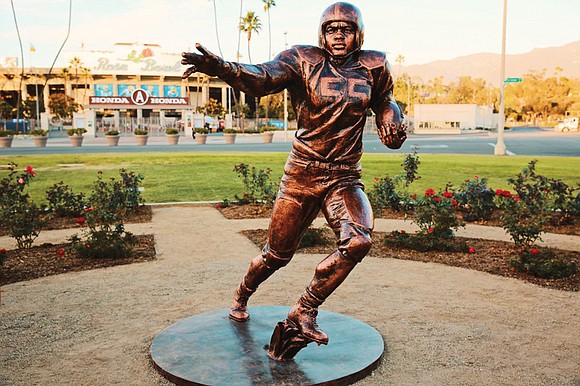 When football fans file into the Rose Bowl in Pasadena, Calif., on New Year's Day, they'll be greeted by an exciting addition — a 7-foot-tall bronze statue of Jackie Robinson.
The statue was unveiled Nov. 29 with Robinson's wife, Rachel, in attendance. Presiding over the occasion was longtime Dodgers announcer Vin Scully, now 90, who called many of Robinson's baseball games in Brooklyn, N.Y.
While Robinson is renowned for breaking baseball's color barrier in 1947 with the Brooklyn Dodgers, he also was a standout football player at Pasadena Junior College in 1937 and 1938 and at UCLA in 1939 and 1940.
The statue has Robinson wearing the No. 55 jersey, the number he wore as a player at Pasadena Junior College. He wore No. 28 at UCLA.
Many of the junior college's home games were played at the Rose Bowl. In a game in 1938 against Cal Tech, Robinson returned a kickoff for 104 yards, still a stadium record. Robinson played many games in the Rose Bowl but never participated in the official New Year's Day Rose Bowl game.
At UCLA, he was an All-Western Conference quarterback and defensive back. He led the nation in punt returns in 1939 and 1940.
The 1939 Bruins (who went 6-0-4) included three other African-Americans — Woody Strode, Kenny Washington and Ray Bartlett — making it among the nation's most racially integrated squads at the time. 
The new Robinson statue at the Rose Bowl is the work of sculptor Brian Hanlon and was funded by the Thomas Tull Family, which helped produce the biopic "42" about Robinson's life.
This year's Rose Bowl game pits the University of Oklahoma against the University of Georgia.
There is a connection there: Robinson was born in Cairo, Ga., in 1919 before his mother and siblings moved to Pasadena, Calif., in 1920.