Adele, Beyoncé sparkle at Grammy Awards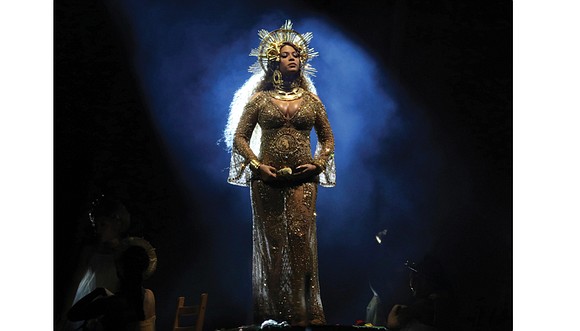 Free Press wire report
LOS ANGELES
Singer-songwriter Adele flubbed on a tribute Sunday night to the late George Michael at the 59th Grammy Music Awards, but she still walked away as the belle of the televised awards program.
The London-born singer took home five awards Sunday night, including album, record and song of the year.
She beat Beyoncé in the top three categories with her latest album "25," repeating her accomplishments from 2012 when the British star also won all three awards.
In accepting, Adele used her speech to honor Beyoncé and her groundbreaking "Lemonade" album, which also was nominated.
"The way you make my friends feel, the way you make my black friends feel is empowering," Adele said at the Staples Center in accepting the Grammy for Album of the Year.
She did fine on her opening number, "Hello," but she stopped and had to restart her rendition of Mr. Michael's 1996 classic "Fastlove," because of technical difficulties. She brought off the song the second time around to a standing ovation.
Until Adele's abrupt restart, Beyoncé was the talk of the show, which became a showcase for everything from religious imagery and thanks to God to political commentary on President Trump's travel ban on Muslims, deportation of immigrants and resistance.
Wearing a glittery gown, halo-like gilded crown ornamented with roses and a gold choker, a pregnant-with-twins Beyoncé took the Grammy stage, evoking iconography of the divine feminine from several faith traditions.
In her lengthy performance of two songs from her critically acclaimed album "Lemonade," special effects made it appear she had many arms, mimicking Kali, a Hindu goddess who has been worshipped as the Divine Mother and the Mother of the Universe.
Observers on social media also made references to Venus, the Roman goddess of love and beauty; Mami Wata or Yemoja, the Yoruba patron deity of women, especially pregnant women; and the Virgin Mary, including the Virgin of Guadalupe in Catholicism.
Her mother and former stylist Tina Knowles introduced her: "Ladies and gentlemen, with my mother's pride, my daughter, Beyoncé."
She sang "Love Drought" and, later, "Sandcastles," to loud applause from the audience, including daughter Blue Ivy and husband, Jay Z.
Beyoncé won two awards: Best Music Video for "Formation" and Best Urban Contemporary Album for "Lemonade."
"My intention for the film and album is to create a body of work that would give voice to our pain, our struggles, our doubts and our history, to confront issues that make us uncomfortable," Queen Bey said.
"It's important to me to show images to my children that reflect their beauty, so they can grow in a world, where they look in the mirror, first with their own families as well as in the Super Bowl, the Olympics, the White House and the Grammys and see themselves," she said, reading from a card.
"This is something that I want for every child of every race, and I feel that it's vital that we learn from the past and recognize our tendencies to repeat our mistakes," she said.