James Brown's 'Funky Drummer' Clyde Stubblefield dies at 73
2/23/2017, 11:35 p.m.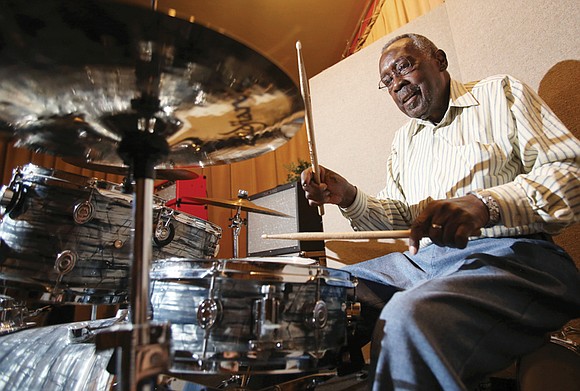 Free Press wire reports
MADISON, Wis.
Clyde Stubblefield, a drummer for James Brown who created one of the most widely sampled drum breaks ever, died Saturday, Feb. 18, 2017.
He was 73.
Mr. Stubblefield's wife, Jody Hannon, told The Associated Press that he died of kidney failure at a hospital in Madison. He suffered from kidney disease for 10 years, and had been hospitalized for a few days, she said.
Mr. Stubblefield performed on several of Mr. Brown's classics in the 1960s and early 1970s, including "Cold Sweat," "Say It Loud — I'm Black and I'm Proud," "I've Got the Feelin'," and the album "Sex Machine."
But he was best known for a short solo on Mr. Brown's 1970 single, "Funky Drummer," in which Mr. Brown counts him in, "1, 2, 3, 4. Hit it!" — and Mr. Stubblefield eases into a cool pattern, part bendy funk and part hard march. It's calm, slick and precise, and atop it, Mr. Brown asks over and over, "Ain't it funky?"
Rolling Stone magazine said that drum break was sampled on more than 1,000 songs and served as the backbeat for countless hip-hop tracks, including Public Enemy's "Fight the Power," Dr. Dre's "Let Me Ride," LL Cool J's "Mama Said Knock You Out" and Run D.M.C.'s "Run's House." It even turned up on Ed Sheeran's "Shirtsleeves" and George Michael's "Freedom! '90," the magazine said.
Ms. Hannon said Mr. Stubblefield saw "very little" in royalties and never expected them. But he was held in high esteem by his fellow musicians.
When Prince learned in 2000 that Mr. Stubblefield was deep in debt from battling bladder cancer, he personally paid $90,000 to cover his bills, she said.
"Clyde was considered his favorite drummer," she added.
Mr. Stubblefield was "a very nice Southern gentleman" from Chattanooga, Tenn., but had lived in Madison, his wife's hometown, since the early 1970s, she said. He had long been a fixture on the local music scene.
"He played here one time with James Brown and just fell in love with it," Ms. Hannon said.