Farewell, President Obama
Commander in chief returns to Chicago for his final speech where it all began
Free Press wire reports
CHICAGO
President Obama bid farewell to the nation Tuesday in an emotional speech that sought to comfort a country on edge over rapid economic changes, persistent security threats and the election of Republican Donald Trump.
With a final call of his campaign mantra, "Yes we can," the president offered a speech in his hometown of Chicago that — forceful at times and tearful at others — was a public meditation on the many trials the country faces as President Obama takes his exit.
He urged Americans to stand up for U.S. values and reject discrimination. He gently prodded the public to embrace his vision of progress while repudiating some of the policies that President-elect Trump promoted during his campaign for the White House.
"So just as we, as citizens, must remain vigilant against external aggression, we must guard against a weakening of the values that make us who we are," he told a crowd of 18,000 people in Chicago, where he celebrated his election in 2008 as the first African-American president of the United States.
"Yes, our progress has been uneven," he said. "The work of democracy has always been hard, contentious and sometimes bloody. For every two steps forward, it often feels we take one step back."
Yet President Obama argued his faith in America had only been strengthened by what he's witnessed the past eight years, and he declared: "The future should be ours."
Brushing away tears with a handkerchief, President Obama paid tribute to the sacrifices made by his wife, First Lady Michelle Obama, and by his daughters, who were young girls when they entered the home on Pennsylvania Avenue. He praised his wife for taking on her role "with grace and grit and style and good humor" and for making the White House "a place that belongs to everybody."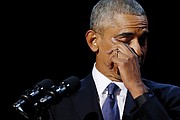 Soon, President Obama and his family will exit the national stage, to be replaced on Friday, Jan. 20, by President-elect Trump, a man President Obama had argued poses a dire threat to the nation's future with proposals to temporarily ban Muslims from entering the country, build a wall along the border with Mexico, upend a global deal to fight climate change and dismantle President Obama's health care reform law.
In his televised speech of just under an hour, President Obama made clear his opposition to those positions has not changed, and he said his efforts to end the use of torture and close the U.S. prison in Guantanamo Bay, Cuba, were part of a broader move to uphold U.S. values.
"That's why I reject discrimination against Muslim Americans," he said to applause.
He said bold action is needed to fight global warming and said "science and reason" matter.
"If anyone can put together a plan that is demonstrably better than the improvements we've made to our health care system, that covers as many people at less cost, I will publicly support it," he said, in another prodding challenge to his successor, who has urged Congress to repeal Obamacare right away.