No fear of KKK
Charlottesville leaders, including clergy and NAACP, plan positive activities for Saturday in response to Klan protest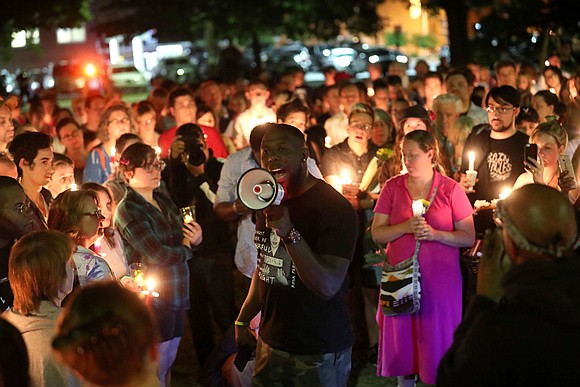 Charlottesville residents refuse to buckle under fear in the face of a Ku Klux Klan rally planned for Saturday in a public park.
While several officials, including Al Thomas, the city's first African-American police chief, and University of Virginia President Teresa A. Sullivan, have publicly discouraged people from attending the rally or holding counter-protests at the site, the Albemarle-Charlottesville NAACP, clergy members and other community leaders have organized events around the city to divert attention and counter the white supremacist group's presence and message.
"The best option is to keep away and make sure Klan members are chanting to the rocks and the trees," Chief Thomas told reporters last month as city officials met to determine the best course of action.
The city granted the Loyal White Knights of the KKK, a North Carolina-based unit, a permit for 100 people to protest the April decision by Charlottesville City Council to remove and sell statues of Confederates Robert E. Lee and Stonewall Jackson in city parks.
The decision sparked a torchlight protest by several dozen people in May by the Lee statue. It was led by a white supremacist, Richard Spencer, a U.Va. graduate. It was followed the next night by a candlelight counter protest by people who supported the City Council's decision.
A lawsuit has put the sale of the statues on hold, but angered hate groups are continuing to make their feelings known.
"They are trying to erase whites and our great culture right out of the history books," the KKK group stated on its website in conjunction with the protest.

According to reports, the KKK initially was to hold its 3 p.m. rally outside the Charlottesville courthouse, but a city spokesperson said the rally was moved to Justice Park, where the Jackson statue is located.
After voting to sell the Confederate statues, Charlottesville City Council also voted to rename the parks in which they are situated. Jackson Park was renamed Justice Park, and Lee Park in downtown is now named Emancipation Park.
Police from Charlottesville, Albemarle County and the University of Virginia will be on standby on Saturday, while the City of Charlottesville has constructed a safety plan for residents and people expected in the area.
"We don't feel an imminent threat, but we want to do what we need to do as a faith community," said Dr. Alvin Edwards, pastor of Mount Zion First African Baptist Church in Charlottesville.
The Charlottesville Clergy Collective, a group of more than 50 clergy and lay persons founded by Dr. Edwards, started a weeklong schedule of prayers, fasting and anointings of the grounds at Justice Park and the courthouse. The events will culminate Saturday with prayer, song, anointing, a display of peace cranes, education and dialogue at Justice Park before and after the Klan rally.
A safe space is being set up at First United Methodist Church, and training in nonviolence will be given to those who want to "join witness" at the actual KKK rally.
"I want us to challenge this and other similar groups and let them know that, as a city and county, we are committed to countering white supremacy and promoting racial equality and justice in our community," Dr. Edwards said.
The Albermarle-Charlottesville NAACP also is holding an event, "Steadfast and Immovable," with guest speakers, refreshments and music, from 2 to 5 p.m. Saturday at Jack Jouett Middle School in Charlottesville.
"The NAACP will be alive and rallying to the cause of justice," said Janette Boyd Martin, branch president. "However, as with other groups and organizations, we will not be participating in opposing action on the scene of the KKK demonstrators."
The Jefferson School of African-American Heritage will host a morning program, followed by the People's Picnic at IX Art Park and a concert later that evening at the Sprint Pavilion on the Downtown Mall.
"Our goal for that day is to ensure that everyone in our community is safe and that our residents meet hate, not with physical confrontation, but with love and unity, a celebration of our community's diversity," Charlottesville City Manager Maurice Jones told The Daily Progress.
"We are not going to change their mind by simply saying they should leave and go home," said Wes Bellamy, Charlottesville's vice mayor. "And us confronting the Klan in a shouting match or a physical confrontation is not going to get us anywhere."