Venus breaks down at Wimbledon despite win
Reuters | 7/7/2017, 8:52 a.m.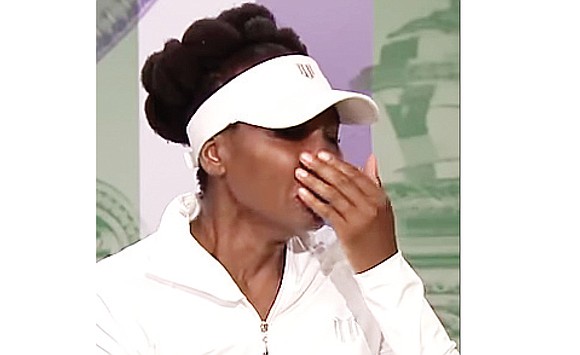 Reuters
LONDON
Tennis star Venus Williams broke down in tears during her post-match news conference at Wimbledon on Monday when asked about a recent car accident she was involved in, which led to the death of a 78-year-old Florida man.
Ms. Williams, who won her first-round match against Belgian Elise Mertens in straight sets, was asked about her feelings regarding the incident.
"There are really no words to describe, like, how devastating and ... yeah. I'm completely speechless. It's just — yeah, I mean, I'm just," the 37-year-old Ms. Williams said before breaking down in tears and leaving the room.
The five-time Wimbledon champion, who is seeded 11th in the singles tournament and 39th in the doubles competition, returned shortly afterward to finish the media briefing.
News of the fatal incident near her home in Palm Beach Gardens surfaced late last week.
Palm Beach Gardens, Fla., police released a preliminary report saying Ms. Williams was the driver at fault in a June 9 accident that left Jerome Barson, a passenger in the other car, with fatal injuries. Mr. Barson's wife, Linda, was driving.
After the crash, Mr. Barson was taken to a Florida trauma center where he died 13 days later, according to the Palm Beach County medical examiner.
The police report estimated that Ms. Williams was traveling at about 5 mph at the time of impact and was not distracted or suspected of drug or alcohol use.
The victim's family has since filed a wrongful death lawsuit against Ms. Williams, alleging negligence.
Before breaking down at the news conference, Ms. Williams was asked several questions about her emotions in the past month but had avoided directly addressing the matter.
"Life, you can't prepare for everything. I prepared for a lot of matches, tried to get ready for whatever my opponent will throw at you. But you can't prepare for everything," she said.
"I have no idea what tomorrow will bring. That's all I can say about it. That's what I've learned," she said to another question on how she was handling the situation.
Last week, Ms. Williams released a statement on Facebook saying that she was "heartbroken" and "devastated" by the death of Mr. Barson.
Ms. Williams also said she was missing her sister, Serena Williams, who is on a break from the game while she is pregnant.
"I miss her a lot. I think she misses me," Ms. Williams said.
She faced a tenacious opponent as she began her bid for a sixth Wimbledon singles title with a 7-6(7), 6-4 victory on Monday.
While a nervous Ms. Mertens struggled early, going down 3-0 in the first set, the 21-year-old, ranked 54th in the world, battled back to force a tiebreak, which Ms. Williams won 9-7.
Ms. Williams, who last won Wimbledon in 2008, was unable to convert two match points in the second set before a rain break, but she returned to serve out for victory.
Ms. Williams was scheduled to play Qiang Wang of China on Wednesday, July 5.