Chef Jerome Grant leads sweet taste of success at new national museum
7/14/2017, 10:35 a.m.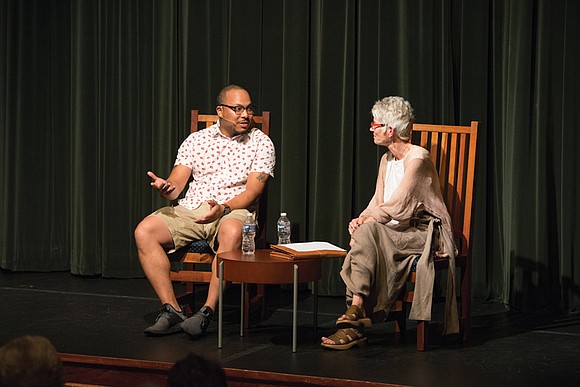 By Julexus Cappell and Bonnie V. Winston
The day begins at 6:30 a.m. for the staff of Sweet Home Café, the highly acclaimed restaurant at the National Museum of African-American History and Culture in Washington.
That's when 400 pounds of collard greens are put on the stove, and nearly 600 pounds of chicken and 100 pounds of catfish fresh from the Chesapeake Bay are being prepared each day for the thousands of visitors who will take a break from browsing the new Smithsonian museum's exhibits to sit down for a dining experience that is both educational and delicious.
"We feed anywhere between 2,800 to 3,500 people a day," said Jerome Grant, executive chef of Sweet Home Café, which opened with the museum in September 2016 to great expectations, throngs of people and great fanfare, including an array of dignitaries led by then President Barack Obama and First Lady Michelle Obama.
Already, the restaurant, under Chef Grant's leadership, has taken the foodie world by storm. Earlier this year, Sweet Home Café was a semifinalist for a James Beard Award for Best New Restaurant in 2017. The James Beard Foundation recognizes culinary excellence across the country.
Chef Grant talked about the restaurant, its success and his background in a series of interviews and appearances July 7 and 8 including with the Free Press in Williamsburg, where he also led a cooking demonstration at the Williamsburg Farmers Market.
He traces his early lessons in the kitchen to his stepfather, an Air Force retiree and Hampton native John C. Smith, and his mother, Lorna Smith, a native of the Philippines, who stayed calm when he nearly burned the house down frying steak at a teenager.
"The first thing I ever cooked was rice," he said. "My favorite quick dish now is a bowl of rice and soy sauce."
His parents, who accompanied him, his 9-year-old son, Tremaine, and his fiancée on the visit, said he has expanded their palettes as he has grown into a successful chef.
"I used to do the cooking at Thanksgiving and Christmas," his father said. "But now he does it."
At Sweet Home Café, food is an opportunity to teach, Chef Grant said. The concept and the dishes expand on the information offered in the other parts of the museum to make the eatery "an edible exhibit."
The food is not the typical cafeteria-style food found in museums, he said. The menu, created by Chef Grant and the museum's culinary team, took about two years to develop through research and tastings.
Dishes are split into four categories: Creole coast, Northern states, Southern states and Western Range. The categories are representative of different time periods in African-American history pre- and post-slavery and the migrations across the nation since.
They include an oyster pan roast inspired by Thomas Downing, a successful African-American oysterman in New York in the late 1700s and early 1800s, who later owned a tavern that doubled as a stop on the Underground Railroad.
Another dish, "Son-of-a-Gun Stew," is a contemporary remix of a popular stew served by African-Americans working on chuck wagons in the West, where they migrated for new beginnings, he said.
"We're teachers and educators through food," Chef Grant said.