Clergy members arrested at D.C. protest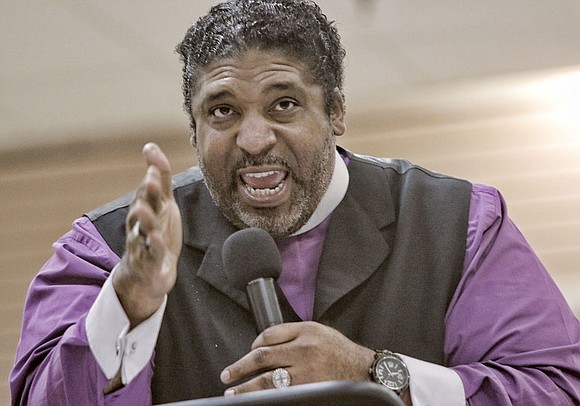 WASHINGTON
Hoping to steer national politics in a different direction, African-American clergy members from several denominations came together this week for the first "African American Clergy Advocacy Day" on Capitol Hill to protest federal budget cuts proposed by the Trump administration.
Authorities arrested a number of the demonstrators on Tuesday on charges of "crowding, obstructing or incommoding." Organizers said the 16 people taken into custody were simply trying to raise awareness of what they called unjust legislation.
"Since all of these folk make a big deal about putting their hand on the Bible and swearing themselves into office, we've come to let them know what's in the Bible," said the Rev. William J. Barber II of North Carolina, who is at the forefront of state and national protests focused on poverty and civil rights.
The event was organized by the National African American Clergy Network and included meetings with members of Congress, speeches outside the Capitol and civil disobedience — protesting inside the Senate office buildings.
Congresswoman Maxine Waters, a Democrat from California and member of the Congressional Black Caucus, appeared at the event, reiterating the point that African-American leaders will keep fighting the Trump administration.
During a similar protest last week in Washington, Rev. Barber and other clergy members were arrested after protesting planned Medicaid cuts in the now-defunct Senate GOP health care bill.
Tuesday's event was a response to a wider range of issues, from U.S. Housing Secretary Ben Carson's controversial statements on slavery to President Trump's proposed budget cuts for programs such as Meals on Wheels.
The Rev. Raphael Warnock, pastor of Atlanta's historic Ebenezer Baptist Church, said that while President Trump asked the African-American community to give him a chance during the presidential election, his budget proposals show his true priorities.
"A budget is not just a fiscal document. It is a moral document," said Rev. Warnock, who was arrested and released after paying a fine. "It says something about the spiritual health of a people. And if this budget were an EKG, it would indicate that America has a serious heart condition."
The Rev. Leslie Copeland-Tune, director of the Ecumenical Poverty Initiative, said clergy would keep coming back to fight.
"We will be back knocking on the doors of (Senate Majority Leader) Mitch McConnell and anybody else … who decides that they should rob the poor just because they are poor," she said.
The protesters also campaigned through social media, encouraging attendees to use the hashtags #BlackClergyUprising and #BlackClergyVoices.
Tuesday's rally originally was organized to protest the Senate's GOP health care bill, but support for that bill collapsed Monday night.