Siblings bring own organ donation experience to Minority Donor Awareness Week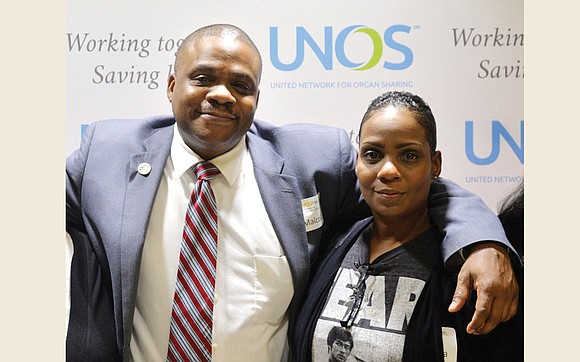 Malcolm K. Bradford feels fortunate that he had a sister willing to donate a kidney when both of his failed.
"People who were in dialysis with me are still on the waiting list" for an organ transplant, said the 47-year-old city employee, who is in good health since the operation two years ago.
He and his sister, Tanyika B. Johnson, 46, are using their experience to help rally more people to become organ donors, particularly African-Americans, who are underrepresented as donors.
The Richmond siblings spoke with the Free Press to help bring attention to the need for more people to sign up to give organs.
Their efforts come just ahead of Minority Donor Awareness Week, which will run from Tuesday, Aug. 1, to Monday, Aug. 7.
The need is great. According to the Richmond-based United Network for Organ Sharing, more than 116,000 Americans are on the waiting list to receive transplants, with nearly 35,000, or about one-third, being African-Americans.
But finding a donor match is tougher for African-Americans because the rate of donations is not keeping pace with the need.
African-Americans, for example, are about 13 percent of the population and represent 14 percent of donors, while the need is for more than double that donation rate.
For kidneys alone, for which African-Americans have a far higher risk of organ failure because of high blood pressure, diabetes and other health conditions, 34 percent of those waiting for a donor are African-Americans.
Finding a donor match is difficult. Even within one's own relatives, the chances of a match can be as little as one in three, according to UNOS and other groups.
Still, as in the case of Mr. Bradford and Ms. Johnson, most donors tend to be related to the person getting the transplant, UNOS statistics show.
Repeated studies have found African-Americans have lower confidence in organ donation in part because of religious beliefs and, in part, because of a lower level of trust in the medical community.
Ms. Johnson, a financial analyst and computer technology specialist, said she learned firsthand how difficult it is to recruit potential African-American donors when her brother needed help.
"Our family passed out fliers to see if anyone was willing to get tested for a match. Our pastor spoke about it at church and encouraged people to get tested," she said.
But there was little response, she said. "Most people were willing to pray for us, but that's as far as they would go. Others who were interested had their own health issues to deal with."
She understands. She stepped up only because it was her brother.
"To be honest, I didn't want to have anything to do with the process," she said.
In the past, she said she never checked the organ donation box on her driver's license because "I didn't want pieces or parts of me parceled out."
She said her reluctance, and the reluctance of others to be donors, is based on fear.
"People don't know what to expect. And it's not just the blood testing. There's the psychological impact. There's the push-pull of should I do this," she said.