McKinney signs letter of intent with Lady Panthers
6/2/2017, 11:17 p.m.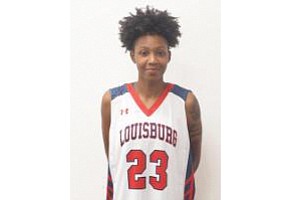 Virginia Union University women's basketball Coach Ann-Marie Gilbert got a close-up look at Bria McKinney last fall at Barco-Stevens Hall.
The Lady Panthers coach was clearly impressed.
McKinney, a 5-foot-9 guard originally from Houston, has signed a National Letter of Intent with VUU and will have two years of eligibility with the Lady Panthers starting with the 2017-18 season.
The Lady Panthers are coming off a 28-5 season in which the team advanced to the NCAA Division II final. 
On Nov. 6, McKinney scored a game-high 29 points for Louisburg College, a two-year college in North Carolina, in a preseason exhibition against VUU on the Lady Panthers' home court. That convinced Coach Gilbert to try and lure her to Lombardy Street.
McKinney averaged 14 points a game for Louisburg, helping the team to 26-6 record. She hit 70 of 208 3-point attempts for 34 percent.
Long-distance shooting was a weakness for the Lady Panthers a year ago. The team hit just 30.4 percent from behind the arc with Brittany Jackson (39 3-pointers) and Rachael Pecota (26 3-pointers), the leaders.
McKinney spent the 2015-16 season at Eastern Florida State College after starring for Houston's Alief Taylor High School. Taylor High ranks among Texas' largest public schools, with approximately 3,000 students in grades nine through 12.