George Wythe alum Jerome Jeter returns to coach football
Fred Jeter | 6/9/2017, 12:47 p.m.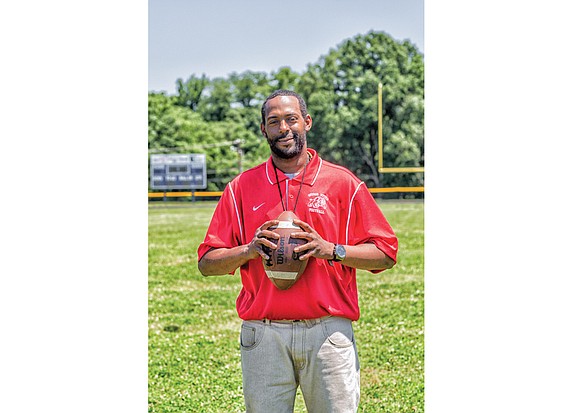 Jerome Jeter played football for George Wythe High School when the Bulldogs were an area powerhouse. He was in the Class of 2000.
Now as the newly appointed George Wythe football coach, Jeter hopes to return the football program to the same high standing it had when he was a player.      
Jeter, 35, is taking on a significant challenge.
The Bulldogs have just five wins — one via forfeit — and 123 losses in the last 13 seasons dating back to 2004 under coaches Fred Blanks, Frank Coston and Dion Foxx.
That includes a 1-10 mark last fall in Coach Foxx's final season.
"There's only one way to go — and that's up," Jeter said.
"What we need to do is change the mindset, improve the work ethic and discipline — make the kids proud to wear the uniform again."
Jeter recalls happier times wearing the Bulldogs blue and red under Friday night lights.
In 1999, Wythe went 8-3, losing to Hopewell in the Central Region Division 5 playoffs under Coach Rodney Berry.
Even the defeats were highly competitive.
The Bullodgs lost to Dominion District champion L.C. Bird High School in Chesterfield County 29-26 and to Dominion District runner-up, Richmond's Huguenot High School, 16-8.
From Wythe, Jeter went on to become a front-line wide receiver at Virginia State University from 2002 through 2005 under coaches Lou Anderson and Andrew Faison. He earned a bachelor's degree in physical education.
Since then, Jeter has coached on various levels.
From 2007 to 2011, he coached with the Bellemeade Community Center youth program.
In 2008, he returned to the South Side school to help coach Wythe's junior varsity team.
From 2009 to 2012, he moved to Georgia, where he coached the Gators AAU squad.
Most recently, he has coached on the semi-pro level with the Virginia Hornets and Tri-City Bulldogs. Also this past fall, he helped coach the Richmond City championship South Side Ducks youth team.
Jeter's day job has been as a counselor for adults with autism with Good Neighbor Community Services.
As a member of the Wythe faculty, plans call for him to serve with the In-School Suspension Program and as a security specialist.
So what can Jeter do to reverse the long-term disappointment involving Wythe football?
He's banking on what he calls the "home neighborhood advantage."
"My first plan is to go to the community, where I know so many people," he said.
"I'm a South Side guy myself. I grew up in Hillside Court. I grew up just like these kids at Wythe now. I know the alumni and half the teachers. I want to get the community behind Bulldogs football."
Already, Jeter is attempting to pick up the intensity of the offseason conditioning.
"Kids need to get bigger, stronger," he said. "You can't wait until August to compete."
Also this spring, Jeter is prepping his athletes for 7-on-7 tournaments, similar to flag football. It's vital that Wythe develop a passing game because the Bulldogs rarely have the physical size and depth to succeed with ground and pound tactics.
Making the task so difficult is what might be billed as a suicidal schedule. Wythe is a 3A school, based on the school's enrollment, with a football schedule heavy with 4A, 5A and 6A schools.
Much to his credit, Jeter isn't looking for excuses to lose. Instead, he's eager to push all the positive buttons and "changing the mindset."
Wythe has won before. Jeter is optimistic it will again.