Triumph and tragedy
Events of last 8 days have vastly different endings for 4 Richmond teens
6/16/2017, 12:45 p.m.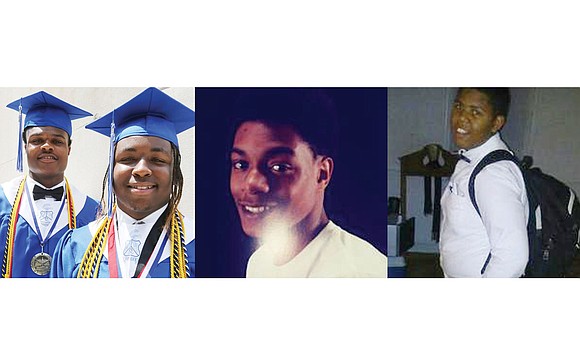 By Holly Rodriguez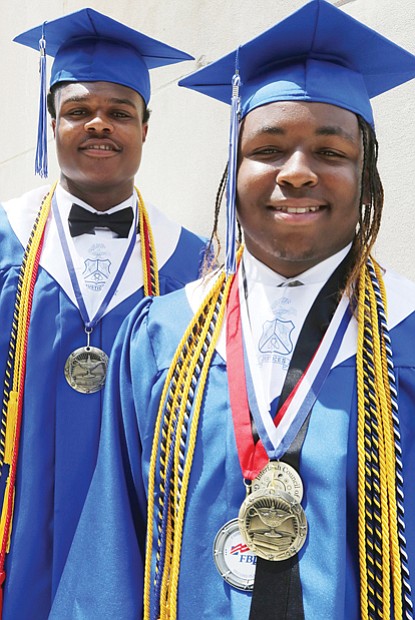 Tyreil Mayo and Gregory Jones both share a drive to succeed — a trait commonly found in top-performing students.
But the 18-year-old John Marshall High School students, who marched across the stage Wednesday at the Altria Theater and received their diplomas, also share a passion for helping others and a strong commitment to their community.
The powerful combination of dedication and academics helped propel the pair to their place in John Marshall history.
Tyreil, the school's 2017 valedictorian, and Gregory, this year's salutatorian, are the first African-American males to graduate in the top two spots at John Marshall in more than 25 years.
"I'm really proud — not just of me, but of (Gregory) also," Tyreil said in a phone interview with the Free Press.
Both received high praise and accolades from their teachers, coaches, guidance counselor and fellow students, some of whom they have tutored during the past four years.
"I feel like we all started out together, and if they excel, we all excel," Gregory said.
Tyreil graduated with a 4.23 GPA, earning more than $250,000 in scholarships. Among his many offers was a full scholarship to Virginia State University, where he will enroll in the fall. He plans to major in computer engineering.
Gregory graduated a close second, with a 4.19 GPA. He earned a full academic and basketball scholarship to attend James Madison University in Harrisonburg. Last Sunday, even before John Marshall's official commencement ceremony, he was packing his bags and headed to a summer school class at JMU, where he will major in mechanical engineering.
"They really are gentlemen," said Portia James, a guidance counselor at John Marshall High who worked with Tyreil and Gregory.
"They are so well-rounded as people. Academics are wonderful, but you have to know who you are as a person, and they really do."
Tyreil said he entered his freshman year ranked No. 4 in the class. He maintained straight A's his entire high school career, taking a course load that included four Advanced Placement subjects this year — all while working part time for a fast food restaurant. He was promoted to team leader at the restaurant in 2016.
The recipient of several awards, Tyreil also was a member of the school's Art Club and the Drama Club, volunteered as a tutor and was a member of the Superintendent's Student Advisory Council.
Although he describes himself as a "more academically oriented" student, he also played soccer and baseball.
"I'm amazed that Tyreil could manage such a full schedule," Ms. James said. "He's certainly not your typical bookworm. He's more of an all-around scholar."
Gregory would not mind being thought of as the Bo Jackson of John Marshall, referring to the African-American Heisman Trophy winner who went on to achieve iconic status in pro football and major league baseball in the mid-1980s and 1990s.
While Mr. Jackson played only two sports, Gregory played on the Justices' baseball team, as well as on the basketball, volleyball and tennis teams.