18-story apartment tower planned for Belvidere, Grace streets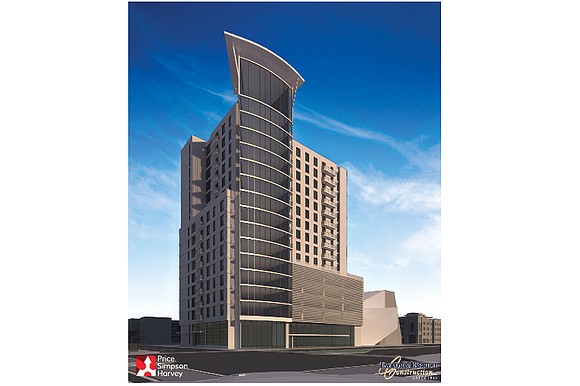 Richmond is losing another gas station on the edge of Downtown, but is set to gain a $100 million apartment tower in exchange.
Steve Uphoff, who has made his fortune with his Uppy's Convenience Stores and Uptown bowling alley chain, announced plans this week to develop an 18-story luxury residential tower at Belvidere and Grace streets.
His plans call for a modern tower that is to include 129 apartments, a rooftop pool, five floors of parking and space on the first and second floors for retail outlets, including one of his signature bowling alleys.

He's now tearing down the Sunoco gas station he owns and operated on the quarter-acre lot that is separated by an alley from Virginia Commonwealth University's Institute for Contemporary Art that is nearing completion at Belvidere and Broad streets.
Mr. Uphoff stated that construction of the high-rise building should begin in October, when the art center is to open. He added the zoning of the property allows for such a large building.
He has been eyeing redevelopment of the property for some time. His initial plan was for a less auspicious, six-story apartment complex, but he never moved ahead.
Instead, he revamped the plans to create a statement project.
Mr. Uphoff had rejected bids from VCU to buy the property, stating that he preferred to undertake his own development.