Personality: Malik and Annette Khan
Spotlight on RPEC's 2017 Peacemakers of the Year
6/24/2017, 12:58 p.m.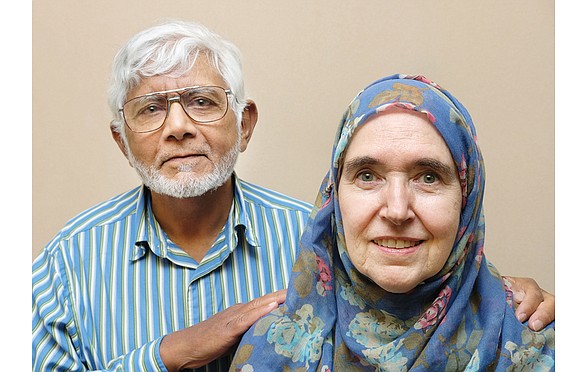 "Talk is cheap. We need to be action oriented. We need to demonstrate through common causes that we can achieve a lot by joining hands. If all else fails, the least we can do is to convey that we must learn to respectfully live with differences." Mrs. Khan agrees, adding that learning the truth — that the word Islam means peace — is a step.
She advises people to go to the source to learn what being Muslim is really about.
"We don't have to believe the same thing," she says. "Talk to Muslims. Talk to Sikhs. They are not Bin Laden. Invite someone into your home and have cookies or tea. Invite them in and get to know them."
Meet this week's Free Press Personality, peacemakers and bridge builders Malik and Annette Khan:
Date and place of birth: Malik, September 1949 in Karachi, Pakistan; Annette, April 1956 in Omaha, Neb.
Alma maters: Malik, bachelor of science in mechanical engineering from University of Nebraska, Lincoln, and master's in mathematics from University of Karachi; Annette, bachelor of arts degree in social psychology, Park University.
Family: No children; Malik's elderly mother lives with us. One senior cat, Billou.
Latest honor: Recipients of the 2017 Peacemakers of the Year Award from the Richmond Peace Education Center.
Occupation: Malik, retired engineer and primary caregiver for my mother; Annette, administrative assistant at Al Madina School of Richmond.
Why this recognition is significant:  We need peace in the Middle East and in the world. Domestically, we need to foster a climate of diversity, harmony and acceptance across many factions — race, ethnicity and religion.
What is the biggest inspiration behind the youth group initiative you started 30 years ago: Muslim youths needed — and still need — more opportunities to learn about their faith and the way to be good American Muslim citizens.
The RVA Peace Festival is: The centerpiece of the RVA Peace Festival has been and will continue to be an interfaith worship service. It has included speakers from the Christian, Jewish, Muslim, Buddhist, Baha'i, Hindu and Sikh communities. In addition, the tragedy of 9/11 is remembered with a moment of silence and frequently includes the release of doves.
Mission of the festival: To provide an opportunity for children, youths and adults of Greater Richmond to gather in celebration of peace and diversity. It is our hope that this will foster a growing sense of community.
Idea for the festival started because: In summer 2004, members of the Bon Air United Methodist Church contacted members of the Islamic Center of Virginia and proposed that they join together, along with other faith-based organizations, to hold an event that would foster peace in the Richmond area.
Importance of peace: Internationally, we see the recurring loss of innocent lives and the continued destruction of cities in the Middle East. Domestically, the current climate dangerously breeds hate and contempt against all Muslims. We need to foster an environment of better understanding. Not all Muslims are terrorists.
Why we advocate for it: Because many people are bullied, harmed or even killed because of the hatred that comes from a lack of understanding.