Frank Mason III drafted in second round by Sacramento Kings
Fred Jeter | 6/30/2017, 6:49 a.m.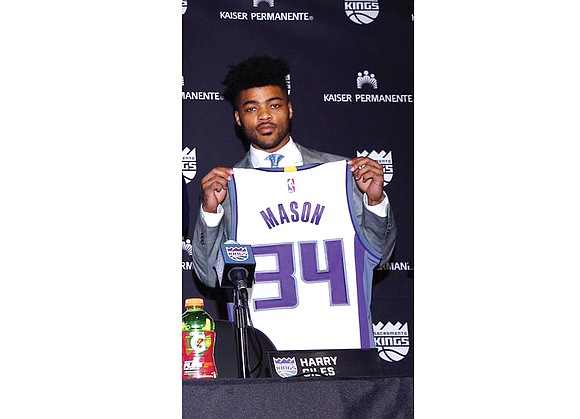 Previously, Mason had sparkled — no surprise — in front of the scouts at the NBA Combine in Chicago.
Some background:
The much-traveled Kings franchise was the Rochester Royals from 1948 to 1957; the Cincinnati Royals from 1957 to 1972; and the Kansas City/Omaha Kings 1975 to 1985, before moving to the capital of California.
In Cincinnati, the team featured arguably the game's all-time lead guard, Naismith Hall of Famer Oscar Robertson. In Kansas City/Omaha, the team's headliner was smallish guard Nate Archibald, another NBA Hall of Famer and among the few to top the NBA in both scoring and assists in the same season.
Mason becomes just the second Petersburg High player drafted by an NBA team. The other was 6-foot-10 Mark West, who was chosen by the Dallas Mavericks as the 30th overall pick in 1983 following a stellar career at Old Dominion University.
Moses Malone of the Petersburg High School Class of 1974 was picked in the third round of the old ABA draft by the Utah Stars prior to the ABA/NBA merger. Malone is considered the first player of the modern era to jump directly from high school to the pro ranks.
At the time, rules did not permit NBA teams to draft athletes straight out of high school.
Malone was a novelty. Many considered it unthinkable a high schooler could match up with seasoned pros. He went on to become a three-time NBA Most Valuable Player and Hall of Fame inductee.
Like Malone, the more you see of Mason, the more you're convinced he is for real. Forget the height chart. Mason gets straight As on the eye test.