Sessions seeks to revive federal anti-crime program that targeted African-Americans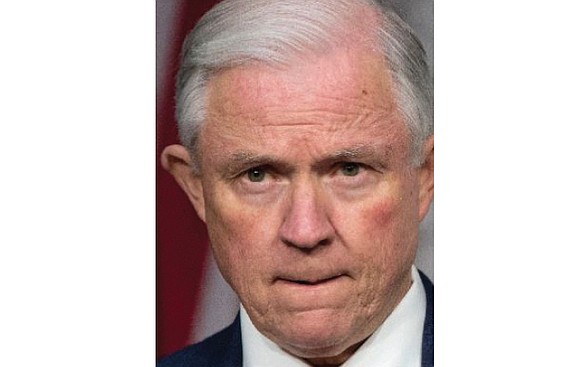 Free Press staff, wire reports
New U.S. Attorney General Jeff Sessions vowed to revive 1990s law-and-order strategies that pumped up the nation's prison population to the highest level in the world to fight the recent surge in urban violence.
He made the point in a tough-on-crime pep talk he delivered Wednesday to about 40 sheriffs, police chiefs and other law enforcement officials from Central Virginia during a visit to Downtown.
While more than 100 demonstrators denounced Mr. Sessions in a protest in the cold outside the SunTrust Center at 10th and Main streets, he was inside talking about ways the powerful U.S. Department of Justice he heads would work "to reduce crime and restore public safety."
His statements underscored Mr. Sessions' repeated promise to make fighting street crime a top mission of the Justice Department in support of state and local police.
That is a radical departure for a department that, under former President Obama, has focused more on police abuse and targeting of African-American and Latino communities, voting rights violations, prevention of cyber attacks from foreign criminals, counterterrorism and the threat of homegrown violent extremism.
Backed by President Trump, Mr. Sessions stated in prepared remarks to the Virginia officials that he would focus on preventing a return to the crime levels of two decades ago.
His top priority would be to ensure "the federal government focuses our resources and efforts on the current surge in violent crime," he stated, citing FBI statistics that show homicides and other violent crimes have been on the upswing since 2014.
The invitation-only event organized by the DOJ and the U.S. Attorney's Office for the Eastern District of Virginia was open to many in law enforcement, but not all.
Those snubbed included state Secretary of Public Safety Brian Moran, Virginia Attorney General Mark Herring and Richmond Commonwealth's Attorney Michael Herring — all Democrats. None received invitations to the talk.
The Richmond Free Press also was not invited. A reporter and photographer from the state's largest black-owned publication were turned away by security.
Joshua Stueve, director of communications for Dana Boente, U.S. attorney for the Eastern District of Virginia and acting deputy attorney general, acknowledged Wednesday after receiving a complaint from the Free Press that the newspaper was not invited.

He was responsible for sending out invitations to news outlets and said in a telephone response that the Free Press was excluded because the 25-year-old publication was not on his office's media list.
He promised to update his media list to include the Free Press.
In his prepared remarks and in wire reports from the meeting, Mr. Sessions stated that one of his priorities would be to bring back Project Exile. That's the 1990s program that FBI Director James Comey originated in Richmond when he was in the U.S. attorney's office here. It allowed local authorities to turn gun crime cases over to federal prosecutors and the federal courts, where they carried mandatory five-year prison terms.
Mr. Sessions described Project Exile as "an excellent model for how we can lock up violent criminals and reduce crime."