UR dean, former Va. first lady named to state Board of Education
3/17/2017, 7 p.m.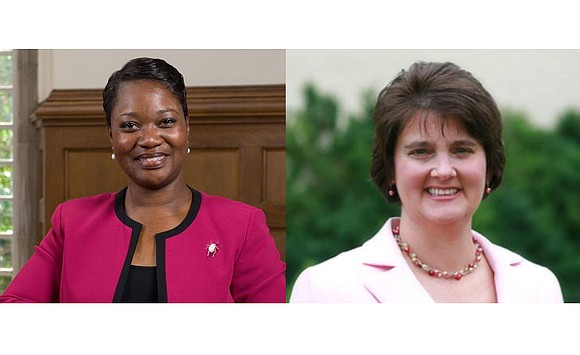 — HOLLY RODRIGUEZ
Dr. Jamelle S. Wilson, dean of the University of Richmond School of Professional and Continuing Studies, and Anne Holton, former state secretary of education, were recently appointed by Gov. Terry McAuliffe to the Virginia Board of Education.
Dr. Wilson has a long tenure in the field of education. She served as superintendent of Hanover County Public Schools from 2011 to 2015. Prior to becoming superintendent, she worked in the Hanover County school system, working her way up through the ranks from classroom teacher, lead teacher, assistant principal, principal and assistant superintendent.
A native of Spotsylvania, Dr. Wilson was the first in her family to attend a four-year university. She earned a bachelor's degree in English from the University of Virginia, where she also earned a master's in teaching from the Curry School of Education and a doctorate in education in 2002.
She also earned a master's degree in English from Virginia Commonwealth University.
In 2015, she was honored among the Strong Men & Women in Virginia History by Dominion and the Library of Virginia.
"As a product of Virginia's public schools, I am keenly aware of the power of education to make a difference in the life of a child — to change one's life course," Dr. Wilson said in a statement to the Free Press.
"We know that quality education is a key attribute of healthy families, resilient communities and a vibrant, productive society."
Ms. Holton, a former Virginia first lady, is the wife of U.S. Sen. Tim Kaine. She attended Richmond Public Schools when her father, A. Linwood Holton, served as Virginia's governor in the early 1970s.
She earned a bachelor's from Princeton University and a law degree from Harvard Law School. She served as a judge on the Richmond Juvenile and Domestic Relations District Court and stepped down in 2016 when Gov. McAuliffe named her state secretary of education.
Ms. Holton resigned her position last July when her husband became the vice presidential running mate of Democratic presidential candidate Hillary Clinton. Their three children also graduated from Richmond Public Schools.