Attorney general's race pits incumbent against political newcomer
11/3/2017, 12:36 a.m.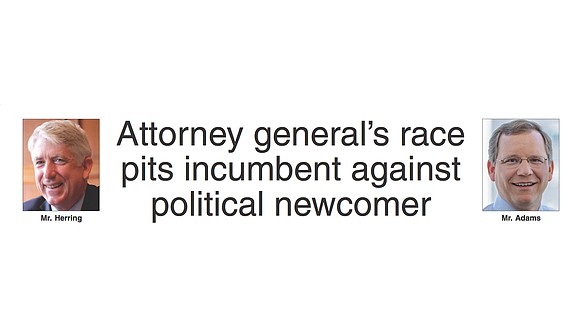 Mr. Herring has made his mark on education by pushing for continued oversight on bad players among for-profit institutions whose graduates often find themselves deep in debt with no degree or marketable skill.
Helping to find solutions to the current heroin and opioid drug crisis, Mr. Herring has said the state can't arrest its way out of the problem. As attorney general, he has emphasized a strategy that includes education, prevention and treatment, alongside enforcement efforts against dealers and traffickers who profit from people's addiction.
Mr. Adams said, if elected, he would create a substance abuse coordination center in the attorney general's office to unite state, local and federal groups to combat the drug epidemic. When President Trump said he would cut subsidies to health insurers that lowered the co-payment and deductibles for people under the federal Affordable Care Act, Mr. Herring joined attorneys general in 18 other states in arguing that the action was unlawful.
"President Trump is intentionally destabilizing insurance markets and ripping away health care from thousands of Virginians, and I won't stand by and allow that to happen," Mr. Herring said in a statement.
Mr. Adams had no comment on the president's action.
Heading into the final few weeks of the campaign, Mr. Herring had a commanding fundraising lead over Mr. Adams, with $2.5 million in cash on hand, compared with about $250,000 for Mr. Adams by the Oct. 15 reporting deadline, according to an analysis by the nonpartisan Virginia Public Access Project.
Mr. Adams' top donor has been the Republican Attorneys General Association, which has donated more than $2.7 million to his campaign.
Mr. Herring's top contributors have been the Democratic Attorneys General Association, $1.7 million, and a gun control group, Independence USA PAC, with nearly $1.3 million.