Personality: Rodney A. Robinson
Spotlight on RPS 2018 Teacher of the Year
11/10/2017, 6:46 p.m.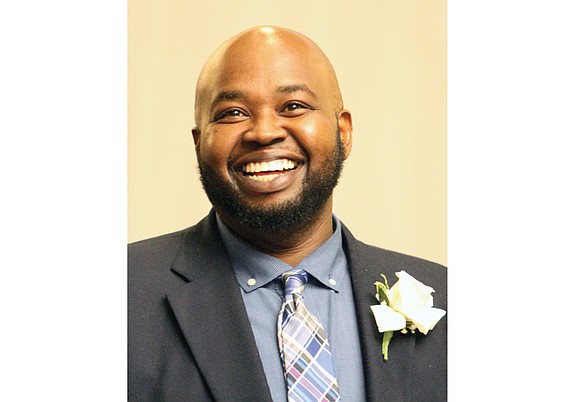 He also views volunteer work as helping students understand the need to give back to the community and how to become engaged.
"The students have done voter registration drives, volunteered for different political parties and candidates, worked in the Boys and Girls Clubs," he says, and helped with cleanup efforts at historical cemeteries in the area and the former Lumpkin's Jail site in Shockoe Bottom, a former slave pen that became the 1867 home of the forerunner of Virginia Union University.
"This encourages students to be civically active by becoming more involved so that they can take control and give back while not letting anyone come in and take over their community. The key thing is they have that life experiences that they can learn from."
Many of his former students, he says, are now running their own community programs. "Their success is my success and joy."
Meet the Richmond Public Schools 2018 Teacher of the Year and this week's Personality, Rodney A. Robinson:
Latest accomplishment: Richmond Public Schools 2018 Teacher of the Year.
Date and place of birth: Sept. 9 in Richmond.
Current residence: North Chesterfield.
Alma maters: Bachelor's degree in history, Virginia State University, 2000; master's in educational administration and supervision, Virginia Commonwealth University, 2011.
Family: Wife, Summer Robinson.
Occupation: Social studies department head, Virgie Binford Education Center.
How long I've been a teacher: 18 years.
Community involvement: I volunteer coach and officiate Little League, middle and high school sporting events in the East End community. I also participate in and support East End booster clubs and community activities. I was recognized for my service to the East End community by winning the Veterans of Foreign Wars National Citizenship Education Post Recognition Award. As an active member of Richmond's historical preservation community, I have led panels and discussions on how the city should promote and remember its past. I have participated in preserving the community through preservation projects such as cleaning local cemeteries. My historical appreciation for this city has driven me to give historical tours to education groups traveling through the city.
Foremost reward of teaching: The biggest reward for me is watching students learn and succeed. I have students who passed a formative assessment for the first time and students who are doctors and lawyers, and my joy for them all is the same. The relationships I form with them allow me to understand their hopes, fears, pain and struggle. Therefore, their success is my success and joy.
Foremost challenge: The biggest challenge in education is trying not to let the outside world affect learning in your classroom. A teacher has to create a safe and nurturing environment that allows the student to feel comfortable to learn.
Advice to aspiring teachers: Always be professional and a lifelong learner. Never let the politics of education destroy you and your students' excitement for learning.
Role of parents in learning process: Parents are your partners in the learning process. They know their children better than anybody, and it is the job of the teacher to get to know and understand each parent in order to learn how each student learns and functions in school and life.