Justice groups press for independent police oversight panel
11/17/2017, 7:03 p.m.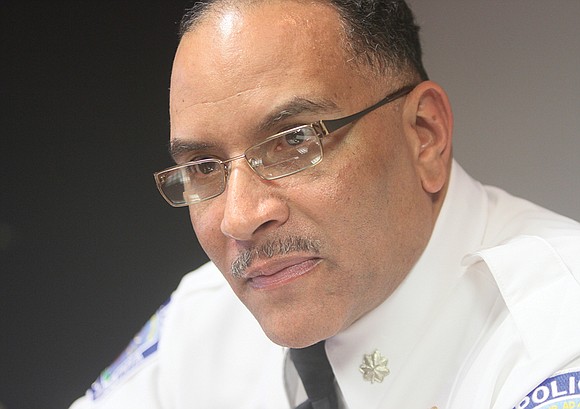 By Saraya Wintersmith
A coalition of justice groups is calling for the Richmond Police Department to create a civilian review board with the authority to investigate complaints against police officers.
Dozens of people gathered at Richmond Public Library's Main Branch Tuesday night for a community meeting on the topic hosted by the New Virginia Majority. The audience listened as several men and women talked about run-ins with local police.
Organizers say creation of a citizen review panel would increase police accountability and transparency.
"We're not saying the police are bad," said Muhammad Abdul-Rahman, a 54-year-old South Side resident leading the coalition's efforts to create a civilian review board. "The Richmond city police is a fine force with fine people, but they are human and they are prone to error."
Mr. Abdul-Rahman, along with others, suggested the department's existing, internally handled complaint process is inadequate for fostering trust and building police-community relations.
"It's not very clear what that process is and it's unclear how much of the community knows that there's a process in place," said Angelo Pinto, 33, with Advancement Project, a Washington-based group within the informal coalition.
He said a civilian complaint review board would be an independent mechanism that "gives the community the ability to identify problematic behaviors and processes" and helps to deliver appropriate consequences for police misconduct.
John Trent described an encounter with police that started with a traffic stop for allegedly running a stop sign. From there, the encounter unjustly escalated, he told the audience, as police K-9 units were brought to sniff for drugs in his car.
Mr. Trent said after the hours-long ordeal, and paying $3,000 to defend himself in court, the charges were dropped.
"I never got a ticket for running the stop sign," Mr. Trent said, "and they (the police) never said anything about the open beer in my car — nothing."
He and several other speakers suggested that police power should be checked by an independent body.
The public forum drew a surprise appearance by Richmond Police Chief Alfred Durham, who said, when asked by someone in the audience, that he doesn't support setting up a civilian review board.
"There are other jurisdictions in this country that are worse off than us," he said after pointing to the Richmond Police Department's more than 187,000 calls for service and noting only 37 complaints for the year so far.
"Give me a reason why."
A police department spokesperson elaborated after the meeting that the proposal is complex and would create privacy concerns.   
While fielding audience questions for a half hour, Chief Durham acknowledged the police force is not perfect, but he also said he has no problem firing officers who violate policy and citizens' rights.
"There's no room for that, because all it takes is that one negative interaction that you all have explained, and it tarnishes us all," he said.
After the event, the chief took the names and phone numbers of a few of the people who shared stories, vowing to follow-up. He also repeatedly encouraged audience members to visit the police department's Commendations and Complaints webpage if they believe an officer has acted improperly.
Attorneys for the Legal Aid Justice Center's Civil Rights and Racial Justice Program pointed to a 2004 Richmond City Council ordinance that sought to create a five-member Police Accountability Board. The measure, which was rejected by the council, was sponsored by 6th District Councilwoman Ellen F. Robertson as her first year in office was drawing to a close.
Mr. Abdul-Rahman said the coalition is seeking community input on how a civilian review board would operate. The group, he said, envisions an elected board of three to five members with limited terms. The board also would have subpoena and investigatory power and play a role in collecting and disseminating public data.
Mr. Abdul-Rahman also said the coalition is gathering signatures on a petition supporting a civilian board and plans to present it to city officials.
The coalition's next meeting will be 1:30 p.m. Saturday, Dec. 16, at the Richmond Public Library Hull Street Branch, 1400 Hull St.