Personality: The Rev. Kevin L. Chandler
Spotlight on new state NAACP president
11/17/2017, 7:18 p.m.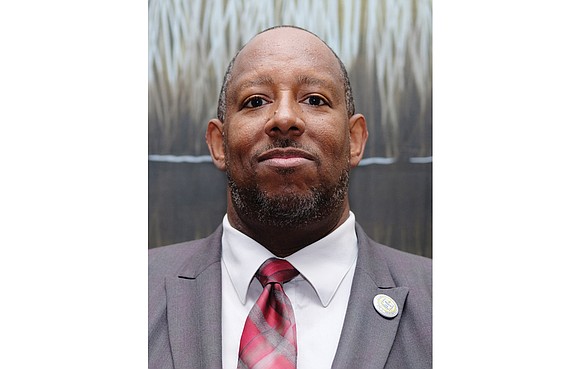 Rev. Chandler graduated from Norfolk State University with a degree in electronics and landed a job working with an IBM subsidiary in New York City.
"An HBCU is the best experience a black person could have," he says. "It's one of those experiences that I will never forget and would encourage anyone who would have the opportunity to go to an HBCU to do so."
During that time, his parents, Shirley and Leroy Chandler, moved to Halifax County, his father's hometown. Mrs. Chandler was involved in the community and with the NAACP.
When a former public school building from the 1920s, located next door to the Chandler home, was turned into a trash and recycling collection center, Mrs. Chandler got fired up.
"My Mom went to the Board of Supervisors fighting against that. She got the community to sign a petition to have the refuse center removed, and she was successful," Rev. Chandler says.
"Eventually, she petitioned the board to give her the building, and then she established an African-American history museum in the building chronicling the work and contributions of the black community and its leaders." After going to New York City, Rev. Chandler says he vowed never to return to Halifax County. But he also learned later "never to say never." He had been ordained in the ministry in 1996 and returned to Halifax County in 2000, becoming associate pastor of Crossroads Baptist Church.
As a pastor, he noticed the disparities in the community — in jobs, health care, education and the ability of individuals of color to succeed.
His worries deepened, he says, because so much work needs to be done. "Not much has changed from 50 years ago," Rev. Chandler says. "The methods (of racism) have changed. Therefore, the way the NAACP must address the issues must change."
Meet civil rights advocate and this week's Personality, the Rev. Kevin L. Chandler:
Community involvement: President, Virginia State Conference of the NAACP, and pastor of Trinity Baptist Church in South Boston.
Occupation: Behavioral health and wellness manager for the Southside Community Services Board.
Date and place of birth: Sept. 24 in East Orange, N.J.
Current residence: South Boston, Va.
Education: Halifax County High School, 1981; bachelor's degree, Norfolk State University, 1985; MBA, American University, 2007; and master's in Christian leadership, Grand Canyon University, 2017.
Family: Wife of 33 years, Gara Jones Chandler; and two adult children and two foster children.
NAACP's mission: The mission of the NAACP is to ensure the political, educational, social and economic equality of rights of all persons and to eliminate race-based discrimination.
Why I wanted to serve as NAACP state president: I have been an active member of the NAACP since 2000. I want to provide the leadership that empowers the branches across the commonwealth to stand up for the injustices and be the voice of the people of color in their areas.
How my presidency will differ from presidencies of predecessors: I am one who can bring people together for common causes. There is a need for a moral evaluation of the leaders of this organization as well as the governmental leaders of Virginia. I plan to improve communications between the Virginia State Conference and the NAACP branches across the commonwealth and to those who the people have elected to do the right thing for all people. Now is the time!