Teaching pays off
Inspiring 8th-grade teacher at Richmond's Lucille M. Brown Middle School wins $25,000 national 'Oscars of teaching' award
11/17/2017, 6:49 p.m.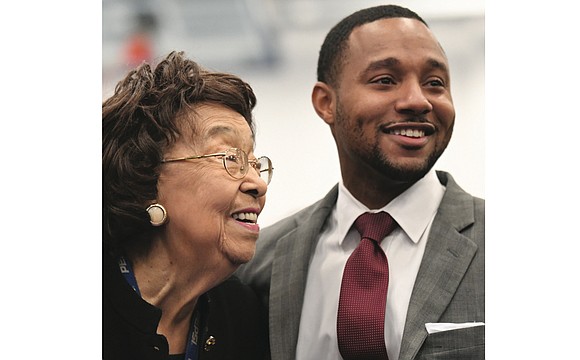 By Ronald E. Carrington
The mystery and hush filling the gymnasium at Richmond's Lucille M. Brown Middle School on Wednesday morning became a cacophony of cheers and applause when teacher Ryan James was announced the winner of the $25,000 Milken Educator Award.
As Lowell Milken, co-founder of the Milken Family Foundation that created the national award honoring teaching excellence and innovation, announced the winner, cheerleaders shook pompoms and students cheered, clapped and stomped their feet on the bleachers, giving their teacher-hero an ovation befitting a rock star.
After hugging his mother, the surprised and tearful Mr. James, a 29-year-old, eighth-grade history and social studies teacher, slowly descended from the top of the bleachers and stood silently in front of the assembled crowd. He wiped tears from his eyes as students, schools officials and a bevy of special guests, including Gov. Terry McAuliffe, state Secretary of Education Dietra Trent, and former Virginia First Lady and state Secretary of Education Ann Holton, continued applauding, showing their overwhelming approval.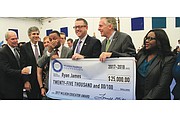 This, after all, was the prestigious Milken Award, described as the "Oscars of teaching," by Teaching magazine. And of 45 honorees across the country this year, Mr. James is the only winner from Virginia.

"I wish my grandfather was here," Mr. James told the audience gathered for the surprise assembly, fighting back the emotions of the moment. "He would have been so, so proud."
"I just thought about all of the hard work over the years, all of the people who helped me and the reason I'm still here," Mr. James said in a brief interview after accepting the $25,000 prize. "They (the students and faculty) just keep me going through all of the trials and tribulations as the hard work continues to pay off. I know why God has put me here."
Winners of the Milken Award cannot apply for the recognition. Nor can they know they are under consideration, according to the foundation.
Candidates are identified through a confidential selection process. They are reviewed by panels appointed by state departments of education based on what they have achieved and "for the promise of what they will accomplish," the foundation stated. Only the most exceptional educators are recommended for the award. The winners are then selected by the Milken Family Foundation, which has funded $68 million in monetary awards to educators since starting the recognition in 1987.
Mr. James now becomes part of the Milken Educator Network of more than 2,700 top teachers, principals and specialists across the country dedicated to strengthening education. He will attend a Milken Educator Forum in Washington in March to meet with the other new Milken Award winners and hear from state and local officials about their leadership roles in advancing educator effectiveness.
Mr. James' impact on his students is profound both in and outside of the classroom. He inspires and works closely with students, using small group and one-on-one sessions, including modifying assignments for students with disabilities.
He uses rap music and technology to help engage students, many of whom live in households below the poverty level.
His Standards of Learning Civics class has achieved a 92 percent pass rate for 2016-17, which is 10 points above the school district average and a 7 percentage point gain over the previous year, officials said.
He also leads the school's International Baccalaureate program for advanced and gifted students, serves as a mentor to new teachers and leads professional development for history and civics teachers.
In addition to his classroom duties, the James Madison University graduate also guides students as the assistant coach for the Panthers' girls' and boys' basketball teams.
He takes students on college visits and exposes them to opportunities to help them think about their future.
"I know all about Ryan James," Mr. Milken told the Free Press after the ceremony. "I have been looking at his teaching techniques, his mentoring other teachers, as well as his investment into this community."
"I think it is absolutely critical to have men teaching," he continued. "A recent report stated that when children have male teachers, especially African-American students with African-American male teachers, they perform at a higher level."
Mr. James is the 44th Virginia educator to win the award. Ten previous winners from the commonwealth attended the ceremony.
Also attending were Richmond Mayor Levar M. Stoney; Richmond's interim Schools Superintendent Thomas E. "Tommy" Kranz; Dr. Steven R. Staples, state Superintendent of Public Instruction; Dan Gecker, president of the state Board of Education; 4th District School Board member Jonathan Young; and Dr. Lucille M. Brown, the former Richmond Public Schools superintendent for whom the South Side middle school is named.
"I think it is very significant that a young man, a young African-American man, has received this award," Dr. Brown said after the ceremony. "Our young men teachers are models. And Ryan, standing here this morning, is telling the student body that if you give it your best, you can be anything you want to be."
Eighth-grader Jermain Williams called Mr. James his favorite teacher.
"He is a great history teacher and not like other teachers," the young man said. "He comes up with his own methods of teaching, using attention-getters that make it a fun way of learning."