New Barbie in hijab modeled after U.S. Olympic fencer
11/24/2017, 2:39 p.m.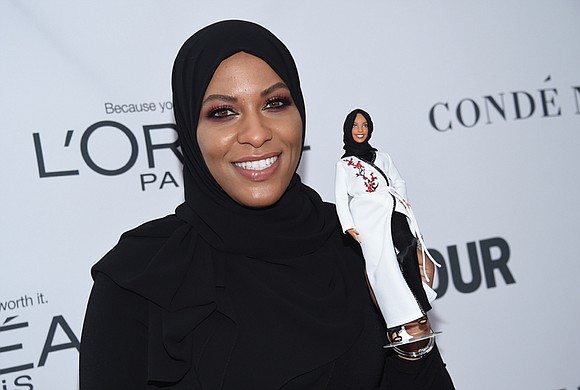 The Barbie doll has come a long way since her introduction in 1959.
The latest version of Mattel's popular doll is wearing a hijab and fencing outfit. The doll is made in the likeness of Ibtihaj Muhammad, the U.S. Olympic fencer who made history at last year's Summer Games in Rio de Janeiro as the first American athlete to compete wearing the traditional Islamic headscarf.
The 31-year-old New Jersey native and Duke University graduate won a bronze medal in the team saber event. She won the gold medal in 2014 at the world fencing championships in Russia.
"I'm proud to know that little girls everywhere can now play with a Barbie who chooses to wear hijab! This is a childhood dream come true," the Olympian posted on Twitter Nov. 13, after appearing on the red carpet at the 2017 Glamour Women of the Year Awards in New York holding the doll made in her likeness.
The hijab, one of the most visible signs of Islamic culture, is becoming increasingly popular with Western businesses, from hijab-wearing models in top fashion magazines to Apple's recently launched "emoji" character in a hijab.
The hijab-wearing doll is part of Barbie's "Shero" line that recognizes women "who break boundaries to inspire the next generation of girls." The doll will go on sale in 2018, the company said.
"Ibtihaj is an inspiration to countless girls who never saw themselves represented," Barbie's marketing vice president Sejal Shah Miller said in a statement. "By honoring her story, we hope this doll reminds them that they can be and do anything."
Many Muslim women cover their heads in public with the hijab as a sign of modesty, although some critics see it as a sign of female oppression.
Other dolls in the collection include African-American ballerina Misty Copeland and Ava DuVernay, director of "Selma," a highly acclaimed film about the Civil Rights Movement.
In November, Danish toymaker Lego released figurines of five women scientists, engineers and astronauts, including Katherine G. Johnson of Newport News, who worked for U.S. space agency NASA, to inspire more girls to pursue careers in science.