10 vying for School Board appointment
10/6/2017, 7:23 a.m.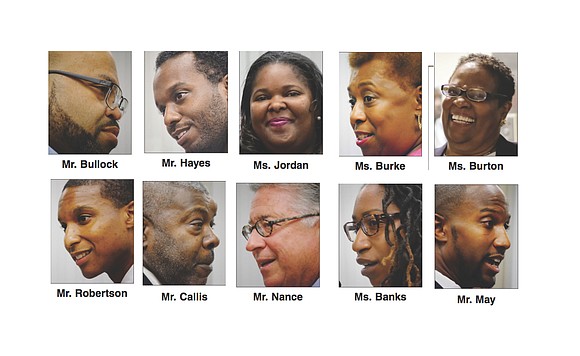 The 7th District seat was left vacant when Nadine Marsh-Carter stepped down Sept. 5 in the wake of her husband's death in July. The board opted to put off a special election until November 2018, and fill the position in the meantime with an interim appointment. The 7th District includes Church Hill, East End and Fulton.
Of the seven schools within the 7th District, only Franklin Military Academy and Fairfield Court Elementary are fully accredited. Bellevue Elementary is partially accredited with a warning because of slowly improving SOL pass rates.
Candidate Harrison L. Hayes said he found those numbers particularly troubling. 
"Our schools are failing," said Mr. Hayes, director of Virginia Commonwealth University's TRIO Educational Opportunity Center.
He admitted with a chuckle that he didn't think he'd return to Richmond after graduating from Richmond Community High School in 2009 and leaving for college in Washington. He suggested using more technology and social media platforms to increase engagement among younger parents.
"I'm not talking about posting something on Facebook," he said, "but using things like Snapchat and Instagram — things these parents are actually using so that they can see how their child is learning."
Immigration attorney Bryce L. Robertson greeted board members in Spanish and offered communication, transparency and inclusiveness as top priorities. He strongly suggested enhancing English as a Second Language education and producing bilingual materials.
"In my work, I've come across a number of families and parents who don't understand what's going on with their students, the materials coming from the schools and are unaware of the decision-making processes simply because they don't speak English," he said. "Part of our role should be to ensure that everyone is part of the conversation."
Tim May, managing partner at Total Solutions Travel, said parental engagement is a top priority.
"I think what separated a lot of student experiences in a lot of programming was actual parent and community engagement," he said, recalling his time as an RPS student. Mr. May said he would work to make sure constituents are informed of the school district's existing programs.
Federal Defense Department auditor Corrisse L. Jordan said she has been away from Richmond for the last two decades, but said she's eager to reacquaint herself through service. She said as a student who began in Richmond Public Schools, but finished elsewhere, she was able to see the difference "in some of the resources and tools I had available" while a student.
She said her main priority would be ensuring RPS students have opportunities and resources to become competitive members of a global workforce.
VCU student and grants administrator Kai Banks also said parental engagement is a top priority. "If Richmond had more of a streamlined process where parents could get involved, and felt heard, but also understood what was going on, there would be more support," she said. "I think there are a lot of really great organizations, as well as parents within Richmond Public Schools, that could be assets."
Following interviews, several area residents spoke in support of the various candidates. During the 45 minutes of public comment, one man implored the board to view the 7th District appointment solely as an interim position.
"On Oct. 17, a little over 20 percent of this board will be appointed not elected," he said, making reference to the board's appointment in March of Cindy Menz-Erb to the 3rd District seat. She replaced Jeff Bourne, who was elected to the House of Delegates. Ms. Menz-Erb is running with four other candidates in a special election for the seat on Nov. 7.
"If people can be appointed to a board, ride the incumbency advantage, and then ride to higher unopposed office, that's concerning for the democratic process," the man told the board.