Tragedy in Vegas
Sunday's bloody mass shooting outside casino is the worst massacre in recent U.S. history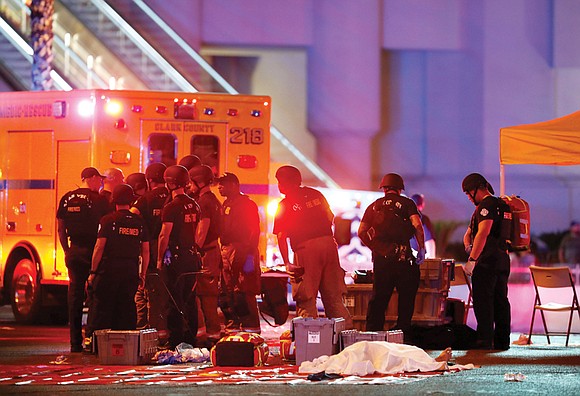 The mystery and motive behind mass killer Stephen Paddock — gambler, accountant, auditor and real estate investor — continues to baffle federal authorities and law enforcement officials in Las Vegas who were working on Wednesday to discover what drove the 64-year-old to commit the worst mass murder in modern U.S. history.
Police body camera video released Tuesday night revealed the sheer chaos at the Route 91 Harvest Music Festival on Sunday, when a gunman opened fire from the 32nd floor of the Mandalay Bay Resort and Casino, killing 58 people and injuring more than 480 others. The video showed people screaming and scrambling as officers tried to figure out the location of the gunman and shuttle people to safety.
According to those who knew him, Mr. Paddock showed no signs of mental illness, extreme political views or an unhealthy interest in guns prior to the massacre.
However, Mr. Paddock was prescribed anti-anxiety medication during the summer and purchased 50 10-milligram tablets of diazepam, better known under its brand name Valium, on June 21, the Las Vegas Review-Journal reported, citing records from the Nevada Prescription Monitoring Program.
According to media reports, Mr. Paddock liked to gamble, had homes in Southern California, Texas and Nevada, had plenty of money and held a succession of steady jobs as a mail carrier, accountant, auditor and apartment manager, according to media reports.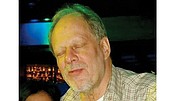 In an era when social media invites full-throated expression of even the most minor annoyance, Mr. Paddock gave no hint of whatever it was that drove him check into the hotel suite with 23 high powered weapons with scopes, smash out two windows and unload on 22,000 concertgoers at a country music festival below.
Several new details emerged Tuesday about Mr. Paddock and how he worked methodically to thwart law enforcement. As he fired round after round starting at 10:08 p.m. and lasting for 11 minutes, video cameras he set up at the hotel door's peephole and outside in the hall kept an eye out for police storming the room, according to Clark County Sheriff Joe Lombardo.
"It was preplanned, extensively, and I'm pretty sure that he evaluated everything that he did in his actions, which is troublesome," Sheriff Lombardo said.
Mr. Paddock shot through his hotel door, hitting a security guard in the leg before police got into to the room to find him dead from a self-inflicted gunshot wound.
Mr. Paddock had no criminal history. And despite repeated claims by the Islamic State to the contrary, he also had no ties to international terror groups, authorities said.
Police said the gunman had 23 firearms in his hotel and an additional 19 at his home in Mesquite, Nev., about a hour northeast of Las Vegas. Authorities determined that more than 30 of the firearms were acquired in the past 12 months, an official said.
Neighbors describe him as surly, unfriendly and stand-offish. Mr. Paddock was the son of a bank robber who was once on the FBI's Most Wanted list and who authorities described at the time as a "psychopath." But Mr. Paddock's brother said their father was not involved in their lives when they were children.