Tragedy in Vegas
Sunday's bloody mass shooting outside casino is the worst massacre in recent U.S. history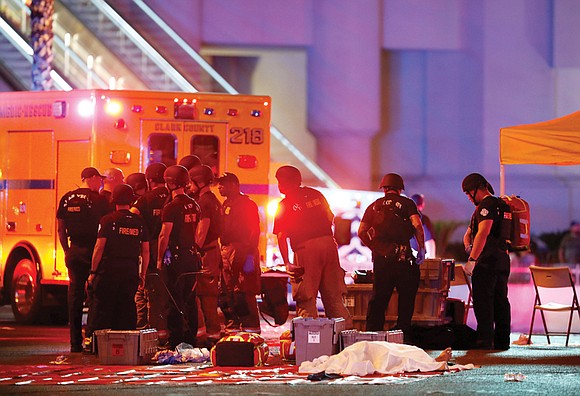 "He was always normal," said Donald Judy, a former neighbor of Mr. Paddock's in Mesquite, as he struggled to reconcile the friendly conversations about real estate and family and the carnage in Las Vegas.
Patrons and a bartender at Peggy Sue's 50s Style Diner in Mesquite said Mr. Paddock and his girlfriend, Marilou Danley, would come in almost every week and have a few drinks and she would sing karaoke.
Ms. Danley, who lived with him, was born in the Philippines and is a citizen of Australia. She had been in Asia for at least two weeks before the shootings, her family denying she had any knowledge of his plans. Authorities said he transferred $100,000 to a bank in the Philippines days before the shooting.
Described by the police as a "person of interest" in the case, Ms. Danley was met by law enforcement officials after she arrived at Los Angeles International Airport from the Philippines late Tuesday night. She was being questioned Wednesday by federal authorities. Investigators are hoping Ms. Danley may hold the key to unraveling the mystery of what drove Mr. Paddock to carry out the massacre.
Victims of the tragedy are being remembered in vigils across the nation, including one planned for 6 p.m. Friday, Oct. 6, in Richmond. United Communities Against Crime is holding a candlelight prayer vigil outside the John Marshall Courts Building, 400 N. 9th St. in memory of the Las Vegas victims and the people affected by recent hurricanes, according to organizer Charles D. Willis. Participants are asked to bring candles.
President Trump and First Lady Melania Trump traveled to Las Vegas on Wednesday, visiting the hospital bedsides of the wounded and the base of police operations. He offered prayers and condolences for those who were killed and hurt, and praise and congratulations to first responders and doctors who rushed to save lives.
He also met with police officers, emergency dispatchers and others who had responded to the mass shooting Sunday night, telling them, "You showed the world and the world is watching, and you showed what professionalism is all about."
The president, however, waved off questions about the availability of firearms — the shooter had a veritable arsenal of weapons — saying this is not the time to discuss the possibility of further gun restrictions.
Back in Washington, Republicans made clear on Wednesday they have no intention of taking up gun control measures, such as tightening restrictions on semiautomatic weapons and high-capacity magazines, in the shooting's aftermath.
However, U.S. Sen. Dianne Feinstein, a Democrat from California, is launching another push to combat gun violence, this time targeting accessories that make it possible to convert a semiautomatic gun to fire rounds rapidly like an automatic weapon.
She said her bill, which had 26 Democratic co-sponsors as of Wednesday morning, would ban the sale, transfer, importation, manufacture or possession of bump fire stocks — also known simply as "bump stocks" — as well as trigger cranks and other accessories that accelerate a semiautomatic rifle's rate of fire.
The longtime gun control advocate also revealed Wednesday that her daughter planned to attend the Route 91 Harvest Festival in Las Vegas, but didn't go.