Personality: Amy Black
Spotlight on founder of nonprofit Pink Ink Fund
10/12/2017, 11:51 p.m.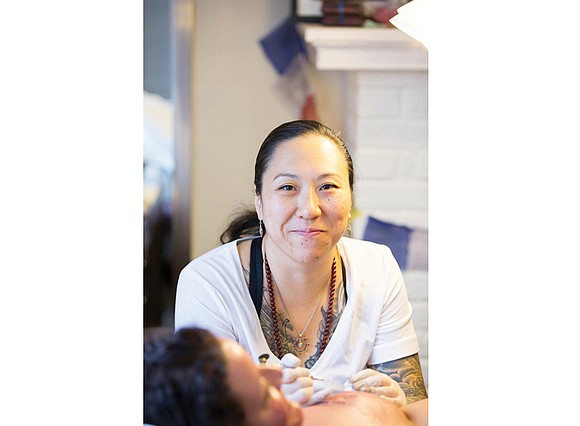 When Amy Black began working as a tattoo artist in 2000 at Pink Ink in Richmond, she was among just a handful of women in the field.
Today, Ms. Black is a well-known tattoo artist who also owns Pink Ink Fund, a nonprofit organization that helps breast cancer patients pay for costs associated with mastectomy tattoos that some patients request as part of breast reconstruction after surgery.
Because October is Breast Cancer Awareness Month, which seeks to increase awareness of the disease and raise funds for its research and prevention, Ms. Black wants to ensure that more breast cancer survivors are aware of the Pink Ink Fund.
Ms. Black's interest in art started in elementary school.
"I was really obsessed with making stage play sets when I was in elementary school and that love of art continued through attending Columbus College of Art & Design," she says, referencing the college located in her hometown of Columbus, Ohio.
The growing tattoo industry later caught Ms. Black's attention.
"The idea to start a nonprofit did not happen until I tattooed my first mastectomy client in the fall of 2000. I was very uneducated on how insurance worked when it came to tattooing a repigmentation nipple on somebody," says Ms. Black.
"I had this gut feeling that there were a lot of women in her situation who could not get the tattoo they wanted because they couldn't afford the fee or I was too far from them," she adds.
Pink Ink Fund began in 2010 as a private fund. Several clients heard about Ms. Black's work and wanted to help. Their charitable donations led to Pink Ink becoming a nonprofit in 2013. The goal was to provide grants to breast cancer survivors seeking help in getting the mastectomy tattoos.
Anyone who has undergone breast cancer surgery can apply for the grants, and people are not obligated to have Ms. Black perform their mastectomy tattoo.
"About a month after I started Pink Ink, a 24-year-old friend in perfect health came up to me and said she had the BRCA mutation and was wondering what she would look like because, generally, the women in her family had double mastectomies," Ms. Black says.
BRCA1 and BRCA2 are human genes that produce tumor suppressor proteins. When either gene is mutated or altered, DNA damage may result, according to the National Cancer Institute. As a result, cells are more likely to develop additional genetic alterations that can lead to cancer.
About 12 percent of women in the general population will develop breast cancer sometime during their lives, and the NCI estimates that 55 to 65 percent of women who inherit a harmful BRCA1 mutation and around 45 percent of women who inherit a harmful BRCA2 mutation will develop breast cancer by age 70.
Ms. Black's friend was happy to know Pink Ink resources will be available for her should she be diagnosed with breast cancer.
"When I began in 2010 the average age of women seeking Pink Ink services was between 40 and 50," she says. Now I am seeing younger women in their 20s and 30s.